Korean American Day
Next

Korean American Day
Thursday, 13 January 2022
January 13 is Korean American Day, a celebration of the first arrival of Korean immigrants to America, and a commemoration of the Korean American community's contributions to culture and society in the United States. There are around 1.8 million people of Korean descent living in the United States, and the Korean Americans make for the fifth largest Asian-American population group. Their roles in society as religious leaders, business owners, military servicemen, artists, doctors, government officials, and many others are indispensable to America.
Background
Korean American Day was first proclaimed by President George W. Bush on January 13, 2003, the 100th anniversary of the arrival of the first Koreans to the United States in 1903. The observance was made official by the U.S. Congress in 2005, and since then Korean American Day has been an annual celebration.
History of Korean Americans in the United States
Koreans had been visiting the United States since 1882 when Korea and the United States signed a peaceful treaty establishing friendship and commerce between the two countries. Politicians and diplomats, businessmen, and students would often travel to America, but none stayed on permanently.
Then, in December of 1902, 102 Korean immigrants boarded the SS Gaelic, whose destination was Honolulu in Hawaii. A month later, on January 13, 1903, they arrived in America, making them the first wave of Korean immigrants to arrive in the country. Throughout the next two years, around 7,500 more Korean immigrants moved to the United States and quickly spread around the country, increasing the Korean American population.
Ever since their arrival, Korean Americans have made important contributions to the United States' economy, society, and culture. They proved to be very valuable during the two World Wars, where they bravely served the United States.
The alliance between the U.S. and South Korea during the Korean War also encouraged many Koreans to emigrate to America, and after the Naturalization Act of 1965, which made it easier for Asians to migrate to America, there was also a big boom in Korean immigration.
The United States boasts the second-largest Korean population living outside of Korea, and the largest Korean American populations are in Los Angeles and New York.
Since their arrival in the United States, the Korean American population has been very valuable and contributed so much to their communities and the United States, it is no wonder they deserve a yearly celebration of all their achievements.
How to Celebrate Korean American Day
This day focuses on the contributions that Korean Americans have made to the United States since their arrival, however, it is important to not forget to celebrate Korean culture as well.
So, you can visit a Korean restaurant on this day and enjoy their delicious food, and you'll be supporting a Korean American small business too! K-Pop has also risen in popularity lately, so if you're not familiar with the musical genre why not give it a listen?
You can also read books or watch documentaries that focus on notable Korean Americans and their achievements. There have been Olympic medalists, journalists, elected government officials, authors, actors and comedians, soldiers... anything you can think of. They all have inspirational stories, and you could learn a lot from them.
Lastly, Korean American Story is a website dedicated to documenting and registering the stories of Korean Americans living in the United States. You can either contact them to document your own, or hear about other people's!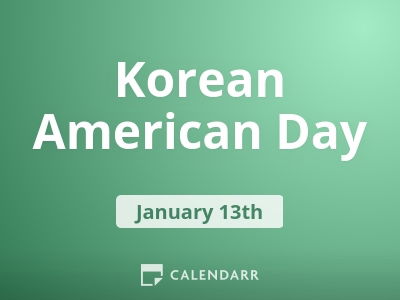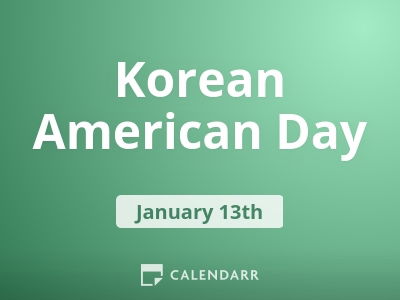 Korean American Day - Next years
Friday, 13 January 2023
Saturday, 13 January 2024
Monday, 13 January 2025
2021 Calendars