National Pharmacist Day
Next

National Pharmacist Day
Wednesday, 12 January 2022
January 12 is National Pharmacist Day, a holiday in honor of all pharmacists across America. Pharmacists do much more than dispensing medication, their job has evolved over the years, and now they provide their customers with advice, vaccines, and health care, and are a crucial intermediary between doctors and patients. Some pharmacists choose to follow the research path of the profession, where they discover new medication.
Background
While there is no information about the origins of National Pharmacist Day, it is likely that it was founded by a group of pharmaceutical organizations that wanted to show their colleagues how appreciated they are.
There are over 300,000 pharmacists in America, and the numbers keep growing every year. They are an essential part of the United States' healthcare system, and they play an important role in their patients' lives every day. In fact, customers like pharmacists so much, that the profession is often ranked among the most trusted professionals in America, and people believe pharmacists to be honest and ethical. This is because pharmacists are the ones who teach patients about complex medication dosages and counsel them about health issues and cost concerns.
The profession of pharmacist dates all the way back to Egyptian times, where priests were also doctors, and some remained in the temple preparing the medicines to treat their patients. It was in ancient Greece and Rome that the professions of doctor and pharmacist became separate, which continued onto the Middle Ages until it became illegal for doctors to give their patients medications in 1683.
Pharmacists used to make medicines and plasters themselves until World War II when the pharmaceutical industry developed, and the making of medication was delegated to factories and researchers, while commercial pharmacists are the ones filling prescriptions and serving customers behind the counter.
How to Celebrate National Pharmacist Day
On this day you can't forget to thank your usual pharmacist for always being so helpful. Certainly, through the years they have given you essential advice on which medications to take, and the correct dosage for each, having helped you recover from whatever your ailment was.
As it is such an important profession for the country, spread the love even further by sharing your thanks on social media, using the hashtag #NationalPharmacistDay.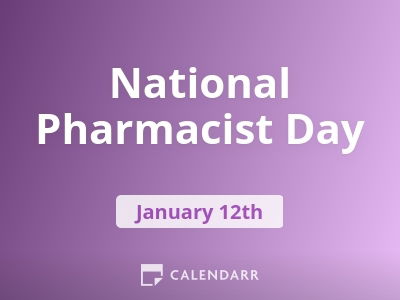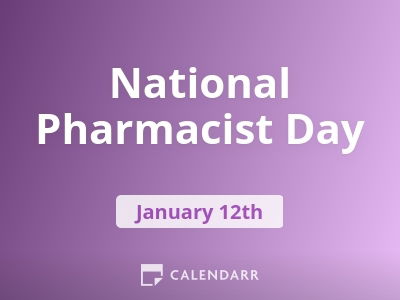 National Pharmacist Day - Next years
Thursday, 12 January 2023
Friday, 12 January 2024
Sunday, 12 January 2025
2021 Calendars