National Adoption Day
Next

National Adoption Day
Tuesday, 23 November 2021
National Adoption Day is commemorated every year in the United States on the Saturday before Thanksgiving. The day raises awareness about the thousands of children that are currently in foster care and in need of a home, waiting to be adopted. This is also the day when courts finalize the hundreds of adoptions in process, and communities throw events to celebrate the new families. Since its inception, over 40,000 children have been adopted on National Adoption Day.
National Adoption Day is not a public holiday in the United States.
Background
National Adoption Day was established by a coalition of national partners, including Children's Action Network, The Alliance for Children's Rights, and the Dave Thomas Foundation for Adoption in 2000. In November of that year, these sponsors for National Adoption Day worked in nine jurisdictions across the country, together with law firms, courts, and foster care agencies, to ensure the completion of hundreds of adoptions from the foster care system.
In 2002, the coalition gained the support of the Congressional Coalition on Adoption Institute, and thousands of adoptions were completed that year. By 2003 there were already 120 jurisdictions nationwide observing National Adoption Day, and on that year 3,100 children were adopted on the day.
By celebrating National Adoption Day on a Saturday, courts reduce their backlogs of processes to deal with, ensuring that children are adopted into their families faster. At the same time, because it falls on the weekend, families get to spend the day celebrating the adoptions with their friends and communities. Currently, National Adoption Day is observed in 400 cities in the United States.
There are currently around 125,000 children in the system waiting to be adopted from foster care into their forever homes. National Adoption Day raises awareness about the importance of giving these children a home. It is estimated that 2 million Americans are adopted, and out of the 150,000 children adopted every year, around 50,000 are adopted through foster care.
What to do on National Adoption Day
If you have the time, consider volunteering for one of the National Adoption Day partner organizations. You can participate in a rally or an adoption fair, distribute some flyers with information, or volunteer at a fundraising event.
The best way to help is to spread the word about National Adoption day. There are many resources online that you can share with your family and friends on social media, and hopefully encourage someone to take the leap and consider adopting or fostering a child.
This is also the perfect day to contact organizations that guide families through the adoption and fostering process if you've been thinking about increasing your family.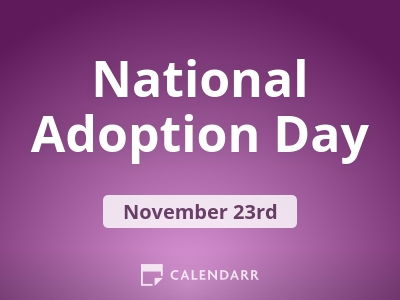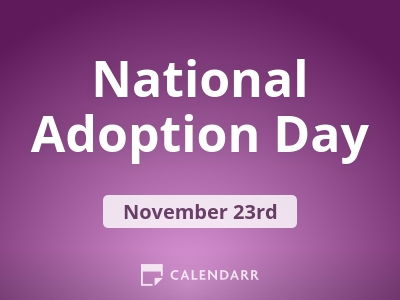 National Adoption Day - Next years
Wednesday, 23 November 2022
Thursday, 23 November 2023
Saturday, 23 November 2024
2021 Calendars