National Bubble Bath Day
Next

National Bubble Bath Day
Saturday, 8 January 2022
Start the year in a relaxing way by celebrating National Bubble Bath Day on January 8. There is no better way to feel indulgent and luxurious in your own home during the winter days, than by drawing yourself a warm bubble bath. However, sometimes our days are so busy that we only have time for a quick shower. Let National Bubble Bath Day remind you to take the time to slip into a hot bubble bath, it will help you relax and refresh your skin. Make it even more special by lighting some candles, putting some music on, and bringing a book to the bathtub with you. The perfect way to treat yourself and practice self-care!
Background
The exact origins of National Bubble Bath Day are unknown, but there are records of the day being mentioned from as early as 1999. It was likely created by someone who knew the importance of relaxing after a long day at work. A big benefit of a bubble bath is that the bubbles at the top insulate the water, keeping it warmer for a longer time.
While bathing has been a common practice since Roman times, bubble baths only became a thing during the 20th century, when soap flakes were invented. In the 1930s most people enjoyed bubble baths, but it was in the 1940s that they really grew in popularity.
Nowadays, bubble baths are a common practice around the world, but most people do it with the purpose of soothing rather than just cleaning themselves. Baths are such a popular form of self-care that the industry for bath products keeps growing, and people enjoy adding bath salts, bath oils, and bath bombs to their bubble baths to make them extra fancy.
Another positive thing about bubble baths that most parents will relate to, is that they make bath time so much easier with children! No child can resist a bathtub that is full of bubbles that they can play with. Add a rubber duck and some bath toys and you'll get a messy, but fun, bath time.
How to Celebrate National Bubble Bath Day
The obvious way to celebrate this day is with a bubble bath - whether you want to relax by yourself, or make bath time extra fun for your kids, make sure to get your bath products out! Here are some relaxing and fun bubble bath ideas.
But first, you ask, how do you make bubbles in your bath? There are some old-fashioned homemade bubble bath recipes that you can look at online, but for an easier way to make bubbles, just use bath soap or bath foam! They are available in most cosmetic stores and supermarkets, there is a variety of scents to choose from, and you can use as much product as you want to make as many bubbles as possible. Make sure to have the water pressure on high to ensure maximum bubbles.
To make a soothing bubble bath that is almost spa-like, turn on your favorite music and light some candles. Add some essential oils to your bath so it is extra relaxing. For some entertainment, you can bring in a book with you, or watch a tv show or movie while in the bath. To complete this self-care ritual, don't forget to get yourself a nice drink to enjoy while in your bubble bath!
Want to treat your children to a fun bubble bath? Buy some bath time toys and games that can be used in the bath or let them use a colorful bath bomb to make the water colored and sparkly. Make it extra fun by using a bubble machine so that the whole bathroom is covered in bubbles.
Already a regular bubble bather? Convert your friends to bubble baths by gifting them a nice bath set, with luxurious products that they can't help but use!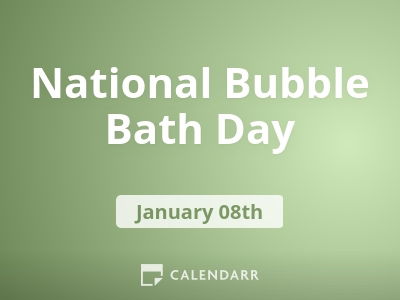 Other Celebrations
National Bubble Wrap Appreciation Day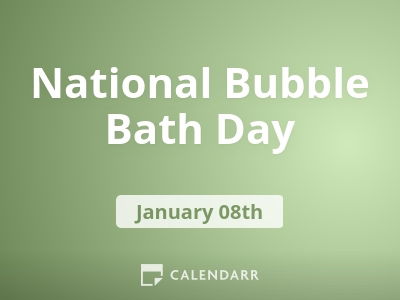 National Bubble Bath Day - Next years
Sunday, 08 January 2023
Monday, 08 January 2024
Wednesday, 08 January 2025
2021 Calendars