Calendar
Law Enforcement Appreciation Day
Law Enforcement Appreciation Day
Next

Law Enforcement Appreciation Day
Sunday, 9 January 2022
National Law Enforcement Appreciation Day is commemorated annually on January 9. It is a day to thank the police officers that you know for all the work they do to protect the community. Those who join the police put their lives on the line every day and their profession is very often underappreciated. Today, show your support for your town's Law Enforcement units, as well as for your friends and family who have chosen the path of Law Enforcement, and thank them for their service.
Background
Law Enforcement Appreciation Day (L.E.A.D) was founded in 2015 by several law enforcement related organizations, such as the Fraternal Order of Police, the Officer Down Memorial Page, the Law Enforcement United, amongst others. Their aim was to have a day dedicated to thanking police officers across the country for their work and sacrifices. Since its creation, the day has been a success with local Police departments and other law enforcement organizations, and every year more of them join in on the celebrations.
Organized police departments are relatively recent in the United States. Up until the 1800s, law enforcement was carried by an appointed Sheriff and a group of volunteers. It was only in the 20th century that larger cities establish centralized police departments, which resulted in a more tame and lawful America. Since then, the police has been a very important part of American life, although many times they are not appreciated for all the good things they do.
It is important to remember that many police officers choose this career because they want to do something good in the world, and help keep their communities a safe place for everyone, regardless of race and gender. Those officers not only risk their lives daily, they also sacrifice time with their family and friends to help others. Law enforcement officers also work together with other organizations such as paramedics and fire departments.
How to Celebrate Law Enforcement Appreciation Day
There are many ways to show your support for your local Police Department on this day. Here are some suggestions:
You can send a card and a nice food hamper to your local law enforcement officers to say thank you.
Organize an event in your community to show your support for the police.
Wear blue clothes for the day to demonstrate your appreciation, and tell other people about Law Enforcement Appreciation Day.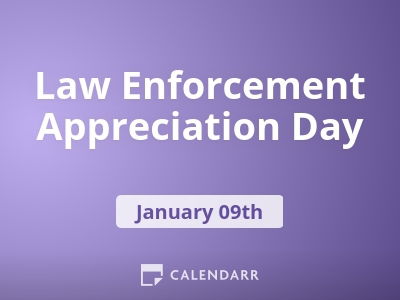 Other Celebrations
National Father-in-Law Day

National Mother-in-Law Day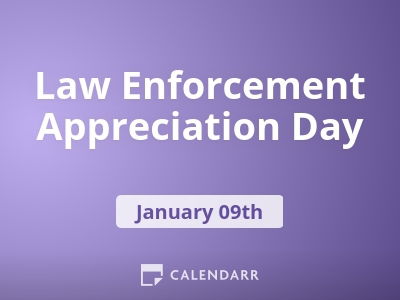 Law Enforcement Appreciation Day - Next years
Monday, 09 January 2023
Tuesday, 09 January 2024
Thursday, 09 January 2025
2021 Calendars