National Guacamole Day
Next

National Guacamole Day
Thursday, 16 September 2021
No one can resist a bowl of fresh guacamole with chips, that's why the dip has its own dedicated holiday. On September 16 we celebrate National Guacamole Day! This tasty side dish made with avocados is native to Mexico but became a staple food for Americans as well. It is so versatile that people began having it in salads, sandwiches, quesadillas, burgers, and even smoothies. On top of this, because it is made of avocados and not much else, guacamole is very healthy, so you can eat as much as you want to celebrate this day.
Background
The origins of National Guacamole Day are unclear, but seeing that avocado consumption in the United States has skyrocketed in the last few years it is no wonder that someone would have the idea to create a day to celebrate one of its most delicious products. In fact, guacamole is one of the factors why avocado sales increased in the US.
Guacamole was first made by the Aztecs in Mexico, who at that time called it "ahuacamolli" which means avocado sauce. Traditionally, guacamole is made with a mortar and pestle and has mashed avocado, lime juice, cilantro, and jalapenos. Some people also like to add onion, tomatoes, sour cream, and other herbs.
As it is made with avocados, guacamole falls into the superfoods category and is a very healthy dip, filled with good fats, vitamins, and nutrients. This is one of the reasons why people love guacamole, it is guilt-free and delicious!
What to do on National Guacamole Day
Not that anyone needs an excuse to eat guacamole, but this is the perfect day to make your favorite guacamole recipe. Whether you're a traditionalist or like to add more ingredients to your guac, the important thing is to enjoy. You can also have guacamole with any meal of the day, so it's a no-brainer.
If you're not into cooking, some restaurants offer some deals on National Guacamole Day. Check locally to see if any around you are doing offers on guacamole, and invite your friends for a dinner out.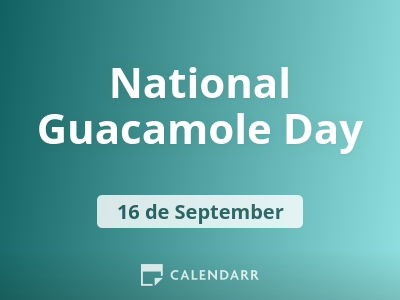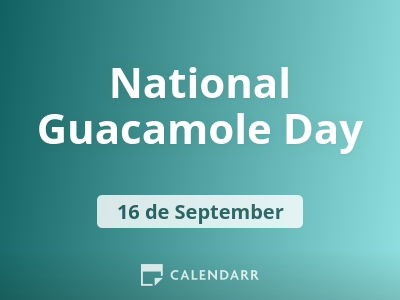 National Guacamole Day - Next years
Friday, 16 September 2022
Saturday, 16 September 2023
Monday, 16 September 2024
2021 Calendars