National Pie Day
Next

National Pie Day
Sunday, 23 January 2022
Few desserts are as American as a pie. That is why on January 23 we celebrate National Pie Day. This day is all about celebrating anything and everything pie - bake them or buy them, the important thing is to enjoy them. The buttery pastry that encases a pie can be filled with anything, from fruit and berries to cream and chocolate, which is why pies are such a crowd-pleaser and no one can say no to a nice, warm slice of this delicious dessert.
Background
National Pie Day was created in 1975 by pie-lover Charlie Papazian, a teacher in Colorado. Papazian loved pies so much, that he decided to declare his birthday, January 23, as the official day to celebrate his favorite dessert. He even had birthday pies instead of birthday cakes to blow his candles on!
Because pies are such a big part of American culture, this unofficial holiday quickly grew in popularity around the nation, and in 1986, the American Pie Council began sponsoring National Pie Day. That's right, pies are so loved in America that there is a special organization dedicated to "preserving America's pie heritage and promoting America's love affair with pies". The American Pie Council is so committed to spreading National Pie Day even further, that in 2014 they joined forces with Paramount Pictures to promote this holiday with a pie-making scene in the movie "Labor Day".
The History of Pies
There are many reasons to celebrate pies, and one of them is the fact that they are one of the oldest prepared foods in history. There are written recipes for pies dating back to as early as ancient Roman times. The Romans' preferred pie fillings were fruits, meat, and seafood, and the oldest pie recipe known to date is for a goat cheese and honey pie. The Greeks had similar pie habits, filling their water and flour shell pastries with meats, fruits, and honey.
Pies were popular through to the Middle Ages, where people preferred them filled with meats and vegetables. However, the dough in these pies was used merely as a container for the food inside, to keep it from drying and to make transporting it easier. This meant that the dough was often inedible so people only ate the pie filling.
Pie came to America via the English settlers and pilgrims. American staples such as pumpkin pie and pecan pie became very popular in the 17th century. As settlers began to spread around the new nation, they started making pies with whatever natural ingredients were available in their regions. This caused a huge boom in the variety of pies made in the United States.
Nowadays, pies are still a traditional American staple. Americans love their homemade pies, but there are a few that stand out as most people's favorites. They are apple pie, pumpkin pie, chocolate creme pie, key lime pie, and cherry pie.
How to Celebrate National Pie Day
Celebrate this day by eating some pie! Whether you want to bake one or buy one from a bakery or the supermarket, this day is the perfect excuse to eat as much pie as you want - for breakfast, lunch, or dinner.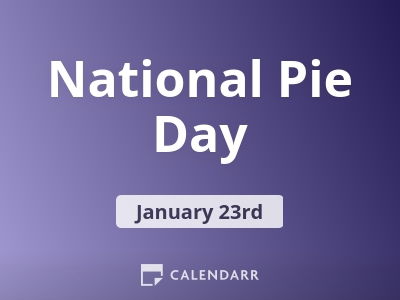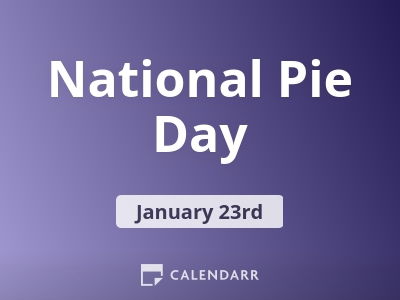 National Pie Day - Next years
Monday, 23 January 2023
Tuesday, 23 January 2024
Thursday, 23 January 2025
2021 Calendars