National Compliment Day
Next

National Compliment Day
Monday, 24 January 2022
Everyone needs a little confidence booster now and then, which is why we celebrate National Compliment Day on January 24. This day is all about positivity and making someone's day just a little bit brighter. Giving someone a compliment can instantly make them happier and put a smile on their face for the rest of the day, so on National Compliment Day don't forget to dish out praise for everyone you come across. And the bonus is, by making someone else feel good, you'll feel great yourself. Win-win!
Compliments are so appreciated that they have a whole international observance dedicated to them too - World Compliment Day is commemorated every year on March 1st.
Background
National Compliment Day was created in 1998 Kathy Chamberlin and Debby Hoffyman of New Hampshire. They wanted to encourage people to compliment others as a way to connect and spread positivity.
Sometimes we only remember to compliment our friends and family for their big achievements or when they do something unusual, and we forget that little, sincere compliments also go a long way. Let this day remind you to regularly compliment those around you for the little things. It can be anything - their hair, their outfit, their cooking, their work, their character. You can be sure that even the smallest compliment will put a spring in their step.
A compliment not only gives someone happiness, it also validates them, and gives them confidence. It can make all the difference not only to someone's day but to their life. For example, a teacher complimenting a student can inspire their child for the rest of their life and make them want to work harder. Similarly, when a boss compliments someone's hard work, that person will feel much more motivated to do a good job, which could lead to a promotion.
Compliments also build trust between people. When you're complimenting someone, think about a unique trait that they have and you admire, and give them a unique and original compliment. A compliment is only good when it is sincere and honest.
The best part about this day is that anyone can celebrate it!
Some Famous Compliments
Compliments are so appreciated and enjoyed, that some of the most iconic quotes that people remember from their favorite movies are compliments. Here are a few, for you to take some inspiration from:
Juno (2007) - "You're the coolest person I've ever met, and you don't even have to try."
Elf (2003) - "You have such a pretty face, you should be on a Christmas card!"
Groundhog Day (1993) - "You're very generous. You're kind to strangers and children. And when you stand in the snow, you look like an angel."
The Help (2011) - "You is kind, you is smart, you is important."
Anchorman (2004) - "You're so wise. You're like a miniature Buddha, covered in hair."
How to Celebrate National Compliment Day
While you should compliment people regularly, you can be extra complimentary today! Compliment your friends and family, the barista at your regular coffee shop, the cashier at the supermarket, even strangers on the subway or the street. Notice them walking a little bit taller after you share your praise for them!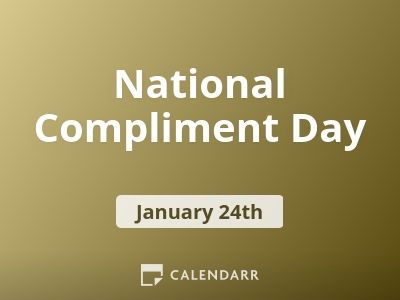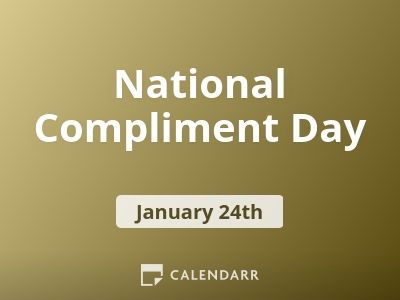 National Compliment Day - Next years
Tuesday, 24 January 2023
Wednesday, 24 January 2024
Friday, 24 January 2025
2021 Calendars