National Pumpkin Day
Next

National Pumpkin Day
Tuesday, 26 October 2021
National Pumpkin Day on October 26 celebrates one of the most beloved symbols of Autumn. Come October, pumpkins are everywhere - on food, on drinks, and even as house decorations. People visit pumpkin patches to find their perfect pumpkins to carve for Halloween and walk around sipping their pumpkin spice lattes, and pumpkin pies are an essential Thanksgiving staple. For Americans, pumpkins represent everything that is cozy and loved about Autumn.
Background
While the origins of National Pumpkin Day are unknown, it is no wonder that there would be a day to celebrate this North American squash.
In fact, pumpkins have existed in American territory, for longer than America has existed as a country. Scientists have found evidence of pumpkin seeds in the American continent dating back to between 7000 and 5500 BC. Interestingly, the name for pumpkin originates from the Greek Pepon, which means "large melon". In the 1500s, French explorer Jacques Cartier found these fruits while on a journey to what would become North America, and gave them the name "pompions" which eventually became the English word we know now - pumpkin.
In America, pumpkins were first grown by Native Americans next to the river banks. Pumpkins were very important in the Native Americans' diet, as they provided enough nutrients to help them survive long winters. When pilgrims arrived in America, Native Americans introduced them to pumpkins, and historians believe that pumpkins were already served on Thanksgiving in 1623.
Nowadays, pumpkins are instantly associated with Halloween. The tradition of carving pumpkins into jack-o-lanterns came to the United States via Scottish ad Irish immigrants in the 1800s. Now, it is a popular and beloved family activity.
While pumpkins are now grown in most continents, the United States still produces over 1,5 billion pounds of pumpkins every year.
What to do on National Pumpkin Day
On October 26 Halloween is just around the corner, so National Pumpkin Day is the perfect day to visit a pumpkin patch and choose the perfect pumpkins to carve and display in your home. You can go the traditional route and carve a scary face into your pumpkin, or look on the internet at the thousands of creative and different ideas around for pumpkin carving.
Pumpkins are a delicious fruit, so why not try some new pumpkin recipes today? You can make some pumpkin soup, pumpkin risotto, or go the sweet route and bake some pumpkin pie!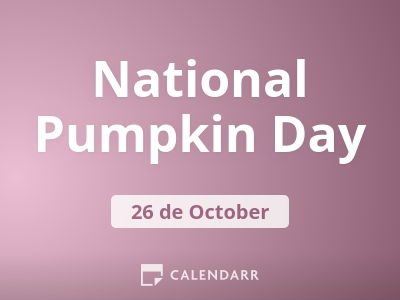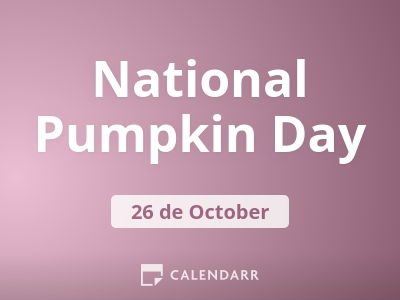 National Pumpkin Day - Next years
Wednesday, 26 October 2022
Thursday, 26 October 2023
Saturday, 26 October 2024
2021 Calendars