National Superhero Day
Next

National Superhero Day
Wednesday, 28 April 2021
Get your cape or your uniform on! April 28 is National Superhero Day, honoring all heroes, whether they are real or fictional. Heroes are people we look up to, who inspire us and keep us safe. They are role models for children and teach them values and kindness. For some, superheroes are those we grew up with, Superman, Spiderman, Wonder Woman, Batman, and others. But in real life, superheroes are those who go above and beyond to do good for others, whether they are nurses, police officers, firemen, doctors, volunteers, or teachers. Anyone can be a hero if they make their goal to do good in the world. Today we celebrate the superheroes of our childhood and imagination, and the heroes of real life, who keep us all safe.
History of National Superhero Day
In 1995, Marvel Comics employees reached out to people in their communities in Pennsylvania to ask them what superpowers they wished they had. Many of the answers were obviously inspired by the fictional superheroes they loved, such as Superman's strength and ability to fly. However, many of them answered that they would like to have the qualities of the real heroes they knew and admired in real life.
So, on April 28, 1995, the first ever National Superhero Day was celebrated, in honor of all the superheroes who act as role models for so many of us. Whether they wear fancy capes and suits, or whether they look like any normal person that we know.
Growing up, most children are inspired by someone they look up to and who they want to emulate. For some, Marvel Comics and DC Comics' superheroes sparked their imagination and made them want to be a good person, fighting evil and protecting others. Most fictional superheroes have different origins and backgrounds, which means that more people can relate and empathize with them, and children feel seen and represented. But many others looked up to people in their lives. Whether it was a teacher who cared about their students or a first responder whose uniform made them look like a real life superhero, a doctor who saves lives, or even their parents who worked to keep the family safe.
Real or fictional, it doesn't matter, National Superhero Day is all about celebrating the heroes who make us want to do good, and inspire us to be better people.
How to Celebrate National Superhero Day
Commemorate this day by celebrating all of your favorite superheroes, real and fictional.
Dress up. This day is the perfect excuse to dress up as your favorite superhero. Throw a cosplay party with your other superhero loving friends, or go out with your children all dressed up to encourage them to do good deeds in their superhero suit.
Watch your favorite superhero movie or read your favorite comics. With the expansion of the superhero universe these past few years you are spoilt for choice. Grab some popcorn and relieve the best action shots of all the superheroes you love.
Honor the real heroes in your life. Whether you thank them for all they do, surprise them with a gift, or dedicate a social media post to them, just remember that this day is about them too.
Know that you too can be a superhero. If you do good, help others, and keep a positive attitude, you are sure to inspire people around you and become their hero.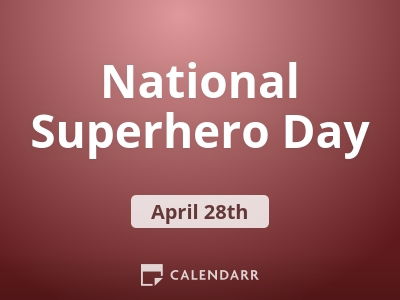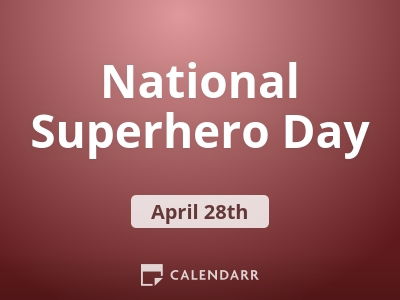 National Superhero Day - Next years
Thursday, 28 April 2022
Friday, 28 April 2023
Sunday, 28 April 2024
2021 Calendars