National Doctors' Day
Next

National Doctors' Day
Wednesday, 30 March 2022
National Doctors' Day is a national holiday observed every year on March 30. It is a day to show doctors how much they are appreciated for all the work that they do to guarantee the health not only of individuals but also of the communities they work in.
History of Doctors' Day
This day's origins can be traced back to 1933, when in Winder, Georgia, Eudora Brown Almond, the wife of a physician, thought there should be a day to recognize all the work that Doctors do for their patients.
On this first observance, Eudora sent cards to several Doctors and placed red carnations on the graves of deceased physicians who had been prominent in the community.
Eudora chose March 30 to celebrate this day, as, on March 30, 1842, Dr. Crawford W. Long successfully performed the first anesthetic procedure before a surgery.
A resolution to make this an official celebration was introduced at a meeting for the Southern Medical Alliance in 1935, and this holiday has been associated with the organization since.
It was only in 1990 that president George Bush passed a law that officially made March 30, National Doctors' Day, a national holiday.
How to celebrate your Doctor
National Doctors' Day is a great day to schedule a check-up and personally thank your Doctor for keeping you healthy. You can give them a greeting card or the traditional red carnation, a symbol of this holiday.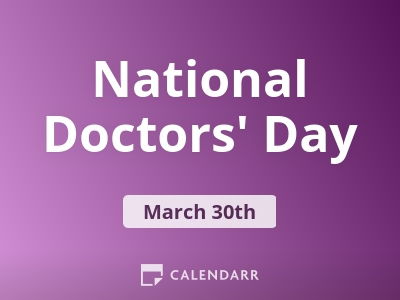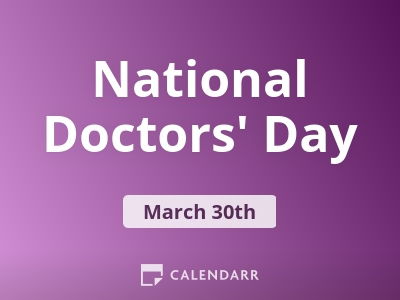 National Doctors' Day - Next years
Thursday, 30 March 2023
Saturday, 30 March 2024
Sunday, 30 March 2025
2021 Calendars