National Trivia Day
Next

National Trivia Day
Tuesday, 4 January 2022
If you love fun and interesting facts then National Trivia Day is for you! Celebrated every year on January 4th, this holiday is all about general knowledge, and those people who can store the most obscure, irrelevant, but still interesting facts and quotes in their brains. If this sounds like you, then National Trivia Day is the perfect opportunity to show off to your family and friends.
Background
Here is the first fun fact about National Trivia Day: it was founded in 1980 by Robert Birch of Pun Corps, the company that produced and released the family favorite Trivial Pursuit board game.
The word trivia is often associated with knowledge. However, it refers to a very specific kind of knowledge: obscure facts that are not necessarily relevant for our day-to-day lives. "Trivia" comes from the Latin "trivialis" which can mean "found everywhere, commonplace" as well as "unimportant matters". The word derives from "trivium" which means "crossroads", a place where you can find common things when traveling. A trivium was also a combination of three subjects that those who followed Liberal Arts in medieval times had to study - grammar, logic, and rhetoric.
Fun Facts to know for National Trivia Day
Here are some interesting, useless, and obscure facts for you to memorize, so you can impress everyone on National Trivia Day:
Domesticated Ravens can learn how to talk better than parrots.
An average cloud weighs around 1.1 million pounds.
The smell of cut grass is just the chemicals that plants release when they are distressed.
During World War II, bacon was used to make explosives.
Play-Doh was not originally a toy, it was advertised and sold as a wallpaper cleaner.
Baby porcupines are called porcupettes.
Humans are the only animals that can blush.
The perfume Obsession for Men by Calvin Klein is used to attract animals to wilderness cameras for research.
Some cats are allergic to humans.
A whale's heartbeat can be heard from 2 miles away.

How to Celebrate National Trivia Day
This day is all about knowledge, so why not organize a Trivia Night at your house? Invite family and friends over for a competitive night designed to find out who knows the most facts. You can be the quizmaster and choose the questions yourself, or just play some Trivial Pursuit.
As an alternative, you can check if any bars or cafes around you have a Trivia contest going on. Put together a team of your most knowledgeable friends and go win that prize!
You can also just stay home and spend the day watching all of your favorite game shows.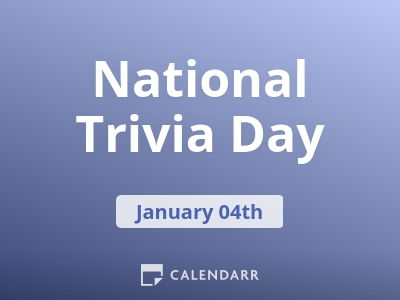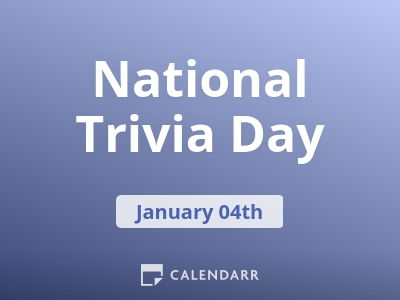 National Trivia Day - Next years
Wednesday, 04 January 2023
Thursday, 04 January 2024
Saturday, 04 January 2025
2021 Calendars