National Ugly Sweater Day
Next

National Ugly Sweater Day
Friday, 17 December 2021
National Ugly Sweater Day, also known as National Ugly Christmas Sweater Day, takes place on the third Friday of December. Once an object of ridicule, Ugly Christmas Sweaters have gained popularity and become a cultural phenomenon in recent years. This is a day to whip out your ugliest Christmas sweater - think tinsel applications, bells, tacky designs, and lights - and wear it for the whole day. Maybe even have a competition with friends and family to see who can find the ugliest sweater.
Background
National Ugly Sweater Day was fittingly created by the people at an organization called Ugly Sweaters Lovers, in 2011. Their intention was to inspire adults to feel the Holidays' spirit again by having some silly fun wearing ugly Christmas sweaters, and make Christmas fun again.
The day eventually grew in popularity and spread across the world. Many charities that help children use this day as an opportunity to host ugly sweater competitions to raise money for their causes.
Ugly Christmas Sweaters were originally called Jingle Bell Sweaters and were very popular in the 80s during the holidays. The most common designs feature bears, reindeers, Santa Claus, Christmas trees, and other Christmas symbols. However, more recently, Ugly Christmas Sweaters with designs inspired by tv shows, movies, songs, and other pop-culture symbols, have become popular with younger people.
How to celebrate National Ugly Sweater Day
The only rule of National Ugly Sweater is that you must wear your sweater all day, from the minute you get dressed in the morning until you go to bed at night. Your sweater can be an old gift that you've been too embarrassed to wear, one that you borrow from your parents, a new one that you buy for this holiday, or you can even get out your crafts box and make your own!
Make this day extra fun by hosting an Ugly Sweater Party, with a prize for the person who manages to wear the ugliest, tackiest sweater of all.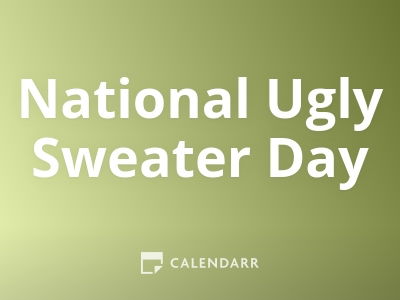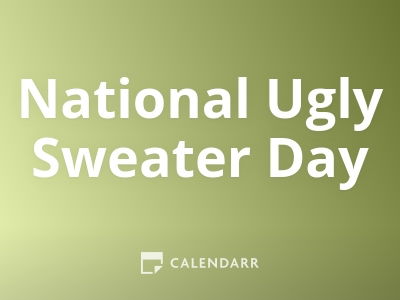 National Ugly Sweater Day - Next years
Friday, 16 December 2022
Friday, 15 December 2023
Friday, 20 December 2024
2021 Calendars