Nevada Day
Next

Nevada Day
Friday, 29 October 2021
Nevada Day is on the last Friday of October, and it celebrates the admission of Nevada into the Union as its 36th state, on October 31, 1864. It is also a commemoration of Nevada's frontier legacy.
It is a state holiday in Nevada, so schools and businesses remain closed for the day.
History
In 1859 Henry Comstock discovered gold in the area of Nevada and quickly made a fortune mining gold and silver. This prompted a big surge of settlers to move to Nevada, which earned the title of territory due to its fast increasing population. Even though it still didn't have the 60,000 inhabitants necessary to become a state, Nevada was admitted into the union and granted statehood on October 31, 1864.
This made Nevada the 2nd state to be accepted into the Union during the Civil War.
According to a local journalist of the time, the first celebration of Nevada's statehood was held in 1873. Officially, a banquet was first held by the Pioneer society on October 31, 1889, and Governor Roswell Colcord declared October 31 a judicial holiday in 1891. However, it wasn't until 1933 that a law was passed to designate Nevada Day as a state holiday, to be observed annually on October 31. If the day fell on a weekend, celebrations would be held on the previous Friday or the following Monday.
Nevada Day was commemorated on October 31 until 2000, when the legislature was passed declaring Nevada Day to be held every year on the last Friday of October. This was to generate more interest on the holiday from the population, by turning it into a three-day weekend celebration.
Nevada Day Celebrations
Even though Nevada Day is a statewide commemoration, most of the events are held in Carson City, the state's capital.
The biggest event on Nevada Day is the big parade in Carson City, held in the city's downtown area. There is also a carnival, a rock drilling contest, a beard contest, concerts, and balls.
The city's local newspaper, Nevada Appeal, holds an annual treasure hunt throughout the month of October, where the clues are related to the state's history, encouraging the people of Nevada to learn more about the state. The prize is a medallion that can be traded for $1000.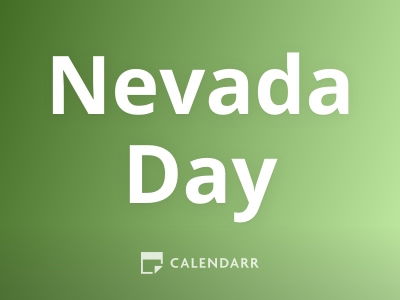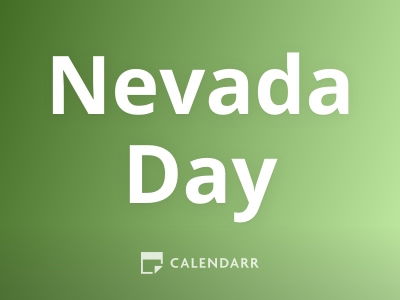 Nevada Day - Next years
Friday, 28 October 2022
Friday, 27 October 2023
Friday, 25 October 2024
2021 Calendars