Orthodox Easter
Orthodox Easter, or Pascha, is celebrated at a later date than that observed by western Christianity. This is because the Orthodox Church follows the Julian calendar, as opposed to the Gregorian calendar. Thus, those of Orthodox faith will celebrate the resurrection of Jesus Christ on May 2nd, in 2021.
In the United States, the most established Orthodox churches are the Greek Orthodox Church, the Romanian Orthodox Church, and the Russian Orthodox Church.
Orthodox Easter is not a federal holiday in the United States, but it falls on a Sunday, so most businesses will be closed or have reduced opening times.
History
Just like western churches, Orthodox churches celebrate the resurrection of Jesus, three days after his crucifixion, on Easter Sunday.
However, while the time for Easter celebrations was established in 325CE by the Council of Nicaea, to be observed on the first full moon around the March Equinox, Orthodox churches choose to commemorate their Easter according to the Julian calendar.
For those of Orthodox faith, Easter starts with the Great Lent, on Clean Monday, and lasts for forty days that culminate on Lazarus Saturday. To officially close the Great Lent, the Vespers, a sunset evening prayer, is held during Lazarus Saturday services. After Lent, Holy Week begins, which ends with Easter Sunday. Orthodox Easter begins with the Midnight Office. For this, the church has its lights off, and a candle is lit at midnight, symbolizing the resurrection of Jesus. Then, there is a procession that goes around the altar three times in a symbol of the three days that Jesus spent in the tomb. This is succeeded by a feast on Sunday morning that ends the fasting of the Great Lent.
Orthodox Easter Traditions
Greetings
During the time leading up to Easter, Orthodox Christians greet each other with a Paschal greeting. One person greets the other by saying "Christ is risen!" to which the other responds "Truly, He is risen!".
Food
For the Paschal feast that breaks the lent, Orthodox Christians usually eat lamb and Tsoureki Paschalino, a sweet Easter bread.
Other foods consumed during Orthodox Easter are smoked meats, cheeses, boiled eggs, and Pashka Easter bread cake. This is usually accompanied by red wine.
Some people participate in the tradition of the blessing of food baskets.
Easter Eggs
Orthodox Easter eggs are hard-boiled and dyed red to symbolize the blood of Jesus Christ. The egg represents fertility and birth.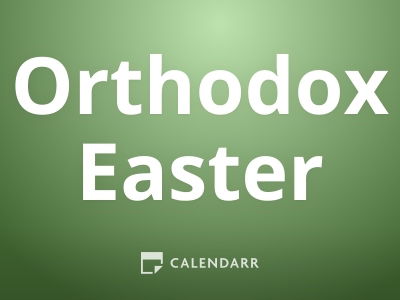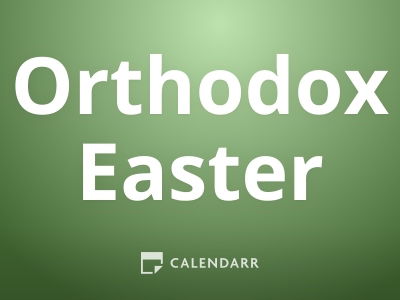 2021 Calendars