San Jacinto Day
Next

San Jacinto Day
Wednesday, 21 April 2021
San Jacinto Day is a holiday celebrated in Texas on April 21. It commemorates the anniversary of the San Jacinto Battle between the Mexican army and Texan soldiers that took place on April 21, 1836. This battle was the crucial one for Texas' independence from Mexico.
The day is no longer a public holiday in texas and most businesses are open. However, some state offices give their workers a partial day off, and public transport may be subject to some changes in timetables.
History
During the 1820s, the region of Texas was still a part of Mexico, which had just recently gained its independence from Spain. However, Texans were growing unhappy with living under Mexican rule and wanted their own independence and freedom to form the Republic of Texas.
In 1835 the people from Texas drew the Declaration of Independence of Texas and formed a provisional government. Word spread around the United States, and many citizens came to Texas to demonstrate their support for their independence and help with fighting the Mexican forces if needed.
By 1836, word of the formation of a provisional Republic of Texas got to Mexican president Santa Anna, who as a result marched his army to Texas in order to stop the revolution. This coup was initially successful, and the Mexican forces managed to gain back control from the areas that were dominated by the Texans.
However, on April 21, 1836, Texan commander Sam Houston led a surprise attack against Santa Anna and his soldiers along the San Jacinto River. As the Mexican army was unprepared, the battle lasted only 18 minutes, and hundreds of Mexicans were killed, injured or captured. In the latter was Santa Anna, who was taken prisoner by the Texan militia.
After this battle, Mexico gave up Texas as a territory and the Republic of Texas became its own independent country, until 1845 when it was threatened by Mexican forces again and annexed by the United States of America as the 28th state.
Historic Landmark
The place where the battle was fought is known as the San Jacinto Battleground State Historic Site and has been a National Historic Landmark since December of 1960. On the site, there is the San Jacinto Monument, the tallest masonry tower in the World, which consists of a column with a star on the top.
San Jacinto Day Traditions
On April 21 many buildings and homes in Texas will fly the Texan Lone Star Flag, in homage to those who fought for Texas' independence.
The San Jacinto Battleground State Historic Site is the place where reenactments of the San Jacinto Battle are staged. People dress up in period costumes, there are cannons and pyrotechnics and many people visit the site to watch the battle being fought. The day is meant to celebrate Texan history and culture.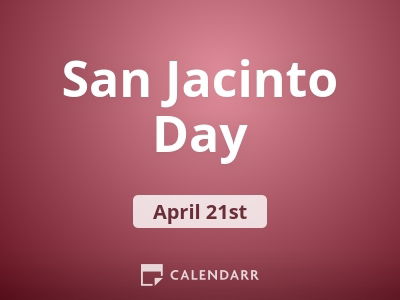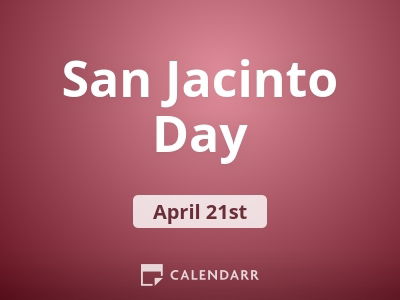 San Jacinto Day - Next years
Thursday, 21 April 2022
Friday, 21 April 2023
Sunday, 21 April 2024
2021 Calendars