World AIDS Day
Next

World AIDS Day
Wednesday, 1 December 2021
World AIDS Day is observed annually on December 1st. The day honors all of those who have lost their lives to AIDS (acquired immunodeficiency syndrome) and those who are infected with HIV (human immunodeficiency virus). It also raises awareness of the pandemic and the spread of the virus and aims to break misconceptions about AIDS by educating people on prevention and control of the disease.
Background
In 1987, three years after the HIV virus was discovered, James Bunn and Thomas Netter, two officers of the Global Programme on AIDS, came up with the idea for World AIDS Day as a way to raise international awareness about the pandemic and to educate people on the virus. The idea gained the approval of Dr. Jonathan Mann, the director of the organization, and the date of December 1st was chosen to commemorate World AIDS Day as they believed it would gain attention and coverage from the media, as it falls between the elections in the USA and the Christmas holidays.
It is estimated that around 38 million people around the world live with the HIV virus, and over 35 million have lost their lives to AIDS or HIV since 1984. Because of the way the virus is transmitted, people have been fighting stigma and discrimination around HIV and AIDS for all these years, and many laws have been passed to protect those who are infected.
World AIDS Day is important because it helps to erase the stigma, educates people on the facts about the virus and how to protect themselves against it, and brings light to the serious scientific advances that have been made in HIV treatment and prevention since the virus was discovered. It also reminds people and governments that the number of new people infected with HIV each year is still significant, and action needs to be taken to fight this.
The red ribbon is widely recognized around the world as the symbol for HIV and AIDS and many wear a red ribbon on World AIDS Day.
Every year, after discussions with UNAIDS, the WHO, and other organizations, the World AIDS Campaign chooses a theme to observe during World AIDS Day. Themes have ranged from "Stop AIDS. Keep the Promise" in 2005-2008, to "My Health, My Right" for World AIDS Day 2017, and more recently "Communities make the difference" in 2019.
How to observe World AIDS Day
Support the cause and honor those who have lost their lives by donating to medical research organizations or nonprofits that support people with HIV, and wearing a red ribbon to help spread awareness.
Many health centers offer free HIV testing on this day. Get tested and encourage others to do the same, and contribute to dismantling the stigma around the virus.
Attend memorials and vigils in honor of those who have lost their lives to AIDS and HIV. Educate yourself by going to talks and health fairs, or by reading books written by HIV positive patients.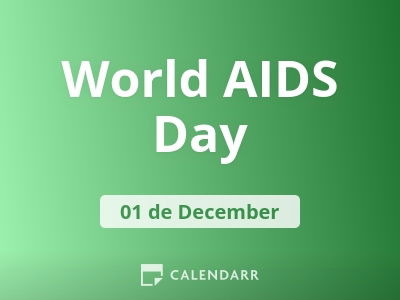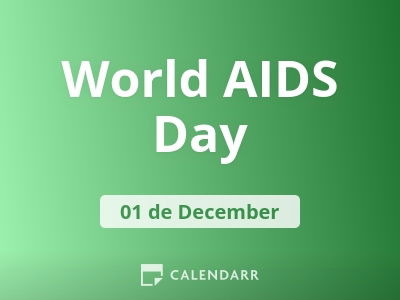 World AIDS Day - Next years
Thursday, 01 December 2022
Friday, 01 December 2023
Sunday, 01 December 2024
2021 Calendars