World Art Day
Next

World Art Day
Thursday, 15 April 2021
World Art Day is celebrated on April 15, the birthday of famous artist Leonardo Da Vinci. This day was established by the International Association of Art, to raise worldwide attention to the work of international artists, and the ways of creative expression that exist. National Art Day celebrates all kinds of art, encouraging people to expand their artistic interests, and get to know artistic mediums that they were not aware of.
History of National Art Day
The International Association of Art founded World Art Day on April 15, 2012, after a proposition was put forward during the IAA's 17th General Assembly for a day to be established in celebration of the fine arts and to promote creative activity on an international scale. The date chosen was Leonardo Da Vinci's birthday, in honor of one of history's most renowned artists and inventors, and a symbol of the way the Fine Arts have influenced all other artistic fields.
The first official World Art Day celebration in the United States was held in Los Angeles, in 2015, where commemorations have been held ever since. The American chapter of the IAA was founded in 2017, with the intention of spreading World Art Day celebrations all over the country.
In 2019, during the 40th session of the UNESCO General Conference, World Art Day was officially proclaimed as a UNESCO observance, and the International Association of Art was made an NGO partner of UNESCO.
Why do we celebrate World Art Day?
Since the beginning of time, humans have been creating and enjoying art. It is a way to express ourselves and see ourselves represented in other people's work.
Art plays a very important role in our lives, whether we realize it or not. It promotes creativity, diversity, and innovation, and encourages people to start conversations about their interests and share knowledge with each other, opening horizons, and making us look at things in different ways. This is why we need to continue to support art and artists and contribute to the diffusion of new works of creative expression around the world.
Many people associate art with Fine Art, such as painting or sculpture. In reality, art is constantly evolving, and it is anything in a visual form that has been created by someone using their imagination and creative skills. Art is photography, calligraphy, architecture, design, cinema, fashion, and so on. Look around you, you are probably enjoying art every day without noticing.
World Art Day aims to spread art and artistic expression all around the world, get new artists known, and make art accessible for everyone.
How to Celebrate World Art Day
Every year, the International Association of Art hosts events and festivities for World Art Day, in Los Angeles. If you live near or are willing to make the trip, attending is the perfect way to celebrate World Art Day and get into the spirit.
However, there are other ways you can celebrate this day. Here are some ideas:
Join an art class. Many people have artistic hobbies, so why not do it too? If you have an interest in drawing, pottery, photography, or any other art forms, joining a class is a great way to better your skills and get to know others that share your interest.
Visit a museum or a gallery. Nothing makes us appreciate art like seeing some real masterpieces up close and in person. Get inspired by paying a visit to your local museum.
Host a World Art Day party. Encourage friends and family to use their creativity to make something, and hold an art competition to pick the best artist out of all of you.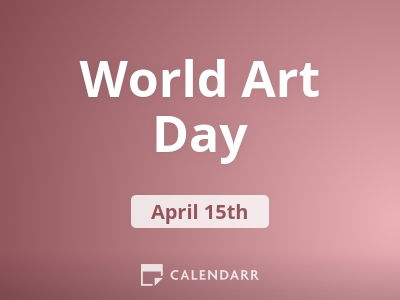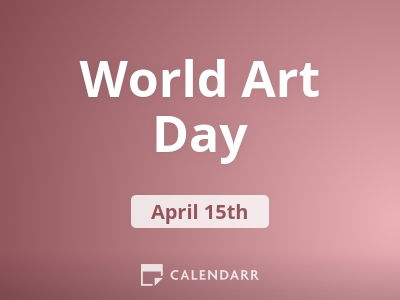 World Art Day - Next years
Friday, 15 April 2022
Saturday, 15 April 2023
Monday, 15 April 2024
2021 Calendars