Calendar
Assassination of Abraham Lincoln
Assassination of Abraham Lincoln
Next

Assassination of Abraham Lincoln
Thursday, 15 April 2021
On April 14, 1865, Abraham Lincoln, the 16th President of the United States, was assassinated at his theatre box in Ford's Theatre in Washington D.C., while watching a production of Our American Cousin. His attacker was a Confederate sympathizer and famous actor, John Wilkes Booth. President Abraham Lincoln passed away the next day, only six days after the end of the American Civil War, which saw the Confederate Army surrendering. Lincoln was the first American president to be assassinated while in office, and what followed was a period of intense national mourning.
History of the Assassination of Abraham Lincoln
John Wilkes Booth was an outspoken supporter of the Confederacy, who in 1864 tried and failed to kidnap Abraham Lincoln to blackmail the Union army.
It was reported that Lincoln was an admirer of Booth as an actor, and had seen him a few times at Ford's Theatre. Booth refused many of Lincoln's invitations to visit him in the White House. On March 4, 1865, Booth attended Lincoln's second inauguration, and wrote in his diary about his wish to have assassinated the president on that day.
On March 20, Booth and his associates tried to kidnap Abraham Lincoln again, waiting for him at Campbell Military Hospital. However, Lincoln skipped the play at the hospital that night to attend a ceremony at the National Hotel.
On April 9, 1865, General Robert E. Lee and his troops surrendered to the Union army at Appomattox Court House, effectively ending the American Civil War and giving the victory to the North. Booth wrote about his intention to avenge the South, and after Lincoln's speech about civil rights for African Americans on April 11, Booth was heard saying that this would be Lincoln's last speech.
The day of Abraham Lincoln's assassination, Booth discovered that the President would be at the Ford's Theatre that night to see the acclaimed play Our American Cousin, and began plotting his masterplan. Knowing the layout of Ford's Theatre and its staff well, Ford planned to make his way to the Presidential Box to assassinate Abraham Lincoln and Ulysses S. Grant.
Policeman John Parker was tasked with guarding the Presidential Box, but during intermission, he left to go to the tavern, and it is believed he didn't come back. At 10:15 p.m. Booth entered the box and shot President Lincoln with his derringer pistol, and attacked an army officer with a knife. Afterward, he jumped onto the stage and shouted the Virginia motto "Thus Ever to Tyrants".
Slumped in his chair and struggling to breathe, Lincoln was assisted by Charles Leale, an army doctor, who gathered soldiers to carry Lincoln to the boardinghouse across the street. Members of President Lincoln's cabinet and some of his closest friends stood vigil at his bedside. Abraham Lincoln passed away on the morning of April 1, 1865, at 56-years-old.
The Aftermath
As news of the President's death traveled, the country went into a state of deep mourning. Flags were flown at half-mast, and businesses closed. Tens of thousands of mourners lined the railroad where the train containing Lincoln's coffin passed through, to pay their respects.
John Wilkes Booth managed to escape after the assassination, together with his accomplice David Herold. This prompted one of the biggest manhunts in American history, with 10,000 officers deployed to find the assassin. He made his way from Washington D.C to Virginia, and was on the run for 12 days until April 26, when Union troops surrounded the barn where he was hiding. Booth was shot in the neck by a sergeant, and died three hours later.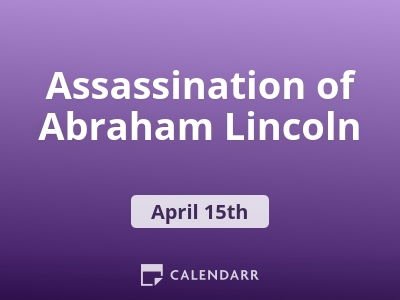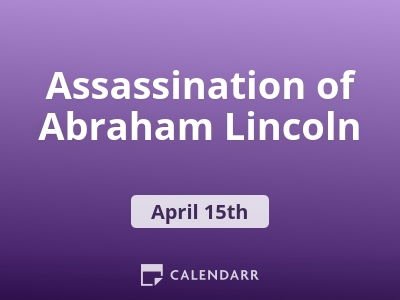 Assassination of Abraham Lincoln - Next years
Friday, 15 April 2022
Saturday, 15 April 2023
Monday, 15 April 2024
2021 Calendars