World Backup Day
Next

World Backup Day
Thursday, 31 March 2022
Has your computer ever crashed when you were working on something important, causing you to lose all of your important documents? Has your phone ever stopped working, leaving you without all your precious photos and videos? Well, World Backup Day on March 31st is here to remind you how important it is to regularly back up all of your files and documents in order to keep them safe. Even though technology has become more reliable, phones, computers, and hard-drives are still not foolproof, and in a few seconds, you can lose all your data beyond recovery. On March 31st, stop procrastinating and sit down with all your devices to backup your files and photos. It is now easier and quicker to do than ever!
History of World Backup Day
World Backup Day was started in 2011, by digital consultant Ismail Jadun. Jadun saw a post on Reddit, where a user wrote about losing their hard drive and wishing someone had reminded them about how important it is to backup your data.
Jadun thought it would be a good idea to have a global day to remind everyone to sit down and back up all the files and documents they don't want to lose. He chose March 31st as the date to observe World Backup Day because it is the day before April Fool's, and only a fool would forget to backup their data. At the same time, April Fool's is a day of pranks, and losing all of your files can sometimes feel like the universe is playing a prank on you. So, you can avoid that by backing up all your devices on World Backup Day!
The day quickly spread amongst internet users and many social media platforms, as Jadun encourages all participants to take a pledge on March 31st and share it with their followers every year. The pledge goes "I solemnly swear to backup my important documents and precious memories on World Backup Day, March 31st."
Backing up your data is extremely important for safety reasons too. Data that is not backed up and protected is more at risk of being hacked or stolen by viruses.
How to Backup Your Files and Documents
Luckily, with technological advancements, backing up your data couldn't be easier nowadays. Most devices offer ways to backup and protect your files at the tip of your finger. Apple, Google, Microsoft, Samsung, and other companies have their own backup services, such as the iCloud or Google Drive, or Window's Backup and Restore. Usually, all you have to do is access your devices' settings, and find the option to backup all of your data. And voila! In a few minutes, all of your precious information is safe and sound.
World Backup Day raises awareness about just how much data is lost every year due to the 60 million computers that crash annually, or the 200,000 smartphones that are lost or stolen, among many other factors that put our files at risk. The advice is to always have three copies of the data you want to keep safe: two on physical storage (such as a phone, computer, USB flash drive, or hard-drive) and one in the Cloud.
How to Take Part in World Backup Day
Celebrate this day as it is intended: take time to sit down and back up all of your devices. Also, set a reminder to do it more regularly and not only on one day of the year. Backing up your data not only gives you peace of mind but the opportunity to look back on all your previous years of saved photos and memories to look at and reminisce about.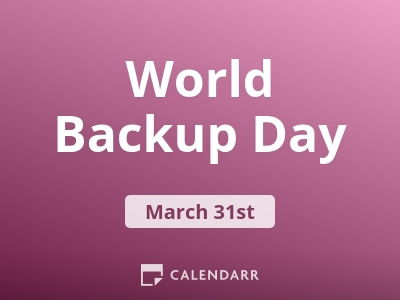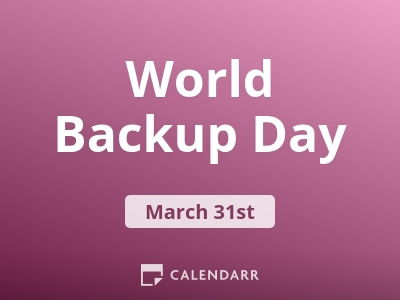 World Backup Day - Next years
Friday, 31 March 2023
Sunday, 31 March 2024
Monday, 31 March 2025
2021 Calendars