World Cancer Day
Next

World Cancer Day
Friday, 4 February 2022
World Cancer Day is observed every year on February 4. This international day is led by the Union for International Cancer Control, and it aims to raise awareness about cancer, educate more people about the disease, and encourage governments to take action. The goal is for everyone across the globe to join forces to make life-saving cancer treatment accessible to everyone, regardless of where they're from, thus preventing the illness and millions of cancer deaths. World Cancer Day is observed by the United Nations' member states.
History
The Union for International Cancer Control (UICC) created World Cancer Day in 2000, at the World Cancer Summit Against Cancer for the New Millenium in Paris. February 4 was established as World Cancer Day in The Charter of Paris Against Cancer, a document that also outlined ways to prevent cancer and improve cancer research and patient services. This document was signed by the Director of UNESCO and Jacques Chirac, the president of France at the time.
The UICC pride themselves in knowing that since its establishment, World Cancer Day has become a positive movement that has united people from different countries together against one common enemy. They are the ones responsible for organizing and coordinating all global events that take place on World Cancer Day. Together with the support of other health organizations, the UICC calls for researchers, health-care workers, governments, and media channels to get together in the fight against cancer, and to promote this day among people and patients, educating them on ways to detect and prevent the illness.
It is important to target misinformation that is shared constantly regarding cancer and to make people aware of cancer warning signs, and that the best way for a cure is early detection, so it is important to get regular check-ups and talk to doctors if something doesn't feel right. Many people also don't know that one-third of common cancers can be prevented. World Cancer Day teaches us how we as individuals and as part of a community can have an impact by understanding strategies for cancer prevention.
Every year, the UICC highlights a theme that is important in their campaign to fight cancer. The theme for 2019-2021 is "I Am and I Will".
World Cancer Day Activities
Every year, the UICC, together with local communities and organizations, organizes hundreds of events across the globe and online. These aim to raise awareness with the general public and include free cancer screenings, public talks, information booths, distribution of booklets and flyers, fundraisers, and nationwide campaigns.
Many initiatives have been started in support of World Cancer Day. One of the most famous ones has spread on social media, the #NoHairSelfie movement has participants who have shaved their heads share a selfie in support of cancer patients.
On a personal level, there are many ways you can observe World Cancer Day.
If you can, donate to a cancer charity or research organization, and play a role in the attempt to develop a cure for this disease.
Reach out to someone in your life who has been diagnosed. Support is one of the best things to help someone on their path to recovery.
Wear a ribbon to help spread awareness about cancer. Different colors represent different cancers, but lavender represents all cancers.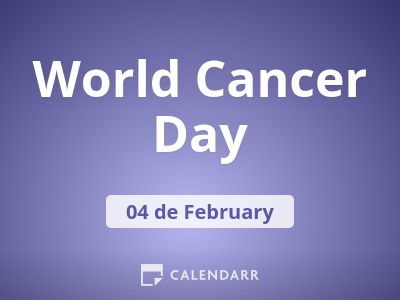 Other Celebrations
National Cancer Survivor's Day

International Childhood Cancer Day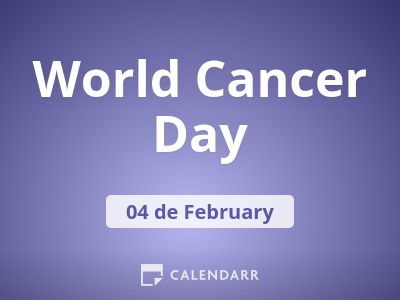 World Cancer Day - Next years
Saturday, 04 February 2023
Sunday, 04 February 2024
Tuesday, 04 February 2025
2021 Calendars