Rosa Parks Day
Next

Rosa Parks Day
Friday, 4 February 2022
Rosa Parks Day is an American commemorative day that takes place on February 4, the day of Rosa Parks's birthday. However, the States of Ohio and Oregon choose to celebrate this day on December 1st, the day of her arrest. It is not a public holiday, and as such businesses run on normal working hours.
The History of Rosa Parks Day
Rosa Parks Day became an official observance in the United States when a California State Legislature was passed in 2000. The first celebration took place in Ohio after Joyce Beatty strongly advocated for the passing of the law that would mark a day for the recognition of Rosa Parks's life and legacy. This day is also commemorated by the Columbus Ohio Bus System.
However, it was not until 2014 that this day was formally recognized in the States of Missouri and Oregon, by the hands of Governors Jay Nixon and Kitzhaber, respectively.
Who was Rosa Parks?
Rosa Parks was a leader of the Civil Rights Movement, who gained notoriety after refusing to give up her bus seat for a white person on a segregated bus. This led to the significant Montgomery Bus Boycott, which marked the end of racial segregation in Alabama.
For her efforts, Parks was awarded the Martin Luther King Jr.'s award by the NAACP, the Presidential Medal of Freedom and the Congressional Gold Medal.
Early Life
Rosa Parks was born on February 4, 1913, in Alabama. She was the granddaughter of former slaves, who instilled in her the need for the advocacy for racial equality. Her childhood was then shaped by discrimination and activism, with her grandfather once confronting members of the Ku Klux Klan who were marching in front of their house.
Parks attended school but was taught how to read by her mother, as the segregated schools of the time offered no conditions for African-American students, who lacked proper school supplies and had to walk for miles to school, as school buses were only available for white students.
She attended school up to the 11th grade, in 1929 when she had to leave to help her sick grandmother and mother back home. After, she got a job as a seamstress at a shirt factory in Montgomery.
In 1932 she married NAACP member Raymond Parks, who encouraged her to graduate high school. She did so in 1933, and became involved in civil rights issues, joining the NAACP as a youth leader and secretary to the president of the association.
Rosa Parks's Arrest
On December 1st 1955 Rosa Parks boarded a bus after work, sitting on the first row designated for colored passengers. She was subsequently arrested after resisting a bus driver's orders to give up her seat for a white passenger. She later explained that she did so because she was tired of giving in to the discriminatory laws.
At the time the Montgomery City Code stated that all public transport must be segregated, and gave bus drivers the same power that police officers had inside their buses. This law designated that passengers should have separate but equal seating, with a line down the middle of the bus which separated white passengers from black passengers. Black people should get on in the front to pay their ticket and then get off the bus to board again through the back door.
On this day, the bus was filling up with white passengers, who not having anywhere to sit, had to stand up. The driver then moved the separating line back one row, forcing four black passengers to give up their seats. The other three passengers obeyed him, but Rosa Parks remained seated stating that she didn't have to stand up. The driver called the police, who arrived and arrested Parks.
The Montgomery Bus Boycott
On December 5 1955, the day of Rosa Parks's trial, the African-American community united in her support and stayed off any public transport in the city. Seeing this unity, NAACP leaders thought that a longer boycott would be more efficient in passing a message, thus starting the Montgomery Bus Boycott which lasted for 381 days and concluded with the Supreme Court's ruling that segregation on public transport was unconstitutional.
On June 1956 the district court ruled that Segregationist Laws were unlawful, and on November 13, 1956, the Supreme Court agreed, thus marking the end of the Jim Crow Laws era.
The boycott then ended on December 20 1956, and it is now recognized as one of the biggest and most successful movements against racial segregation.
Honoring Rosa Parks
For her efforts and struggles, Rosa Parks has been honored and remembered in America in several ways.
In 2000, Troy University opened the Rosa Parks Museum in Montgomery, Alabama. More recently, in 2019, a statue of Parks has been unveiled in the same place, as a memorial to the 64th anniversary of her arrest.
The Rosa Parks Story, a movie about the activist's life, was released in 2002.
On her 100th birthday in 2013, the US Postal Service released a Rosa Parks Commemorative Stamp. In the same year, President Obama unveiled a statue of Parks that is housed in the Capitol Building.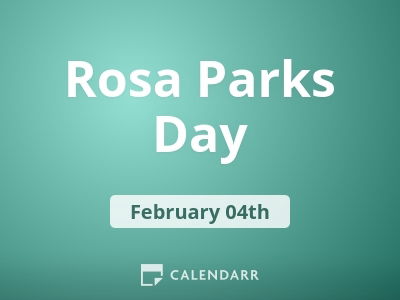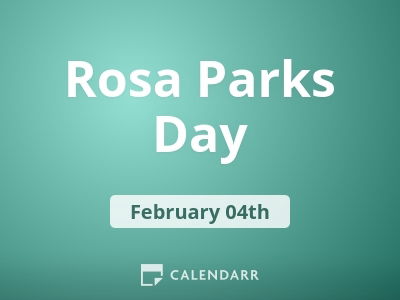 Rosa Parks Day - Next years
Saturday, 04 February 2023
Sunday, 04 February 2024
Tuesday, 04 February 2025
2021 Calendars