World Diabetes Day
Next

World Diabetes Day
Sunday, 14 November 2021
World Diabetes Day is observed annually on November 14. It was created by the International Diabetes Federation (IDF) to raise awareness around the globe about diabetes, the different types of diabetes that exist, how they affect people of different ages and incomes, how they affect people's lifestyles, and different treatments.
Background
World Diabetes Day was established by the IDF and the World Health Organization in 1991. At the time, the number of people diagnosed with diabetes was rapidly rising around the world, and both organizations thought it would be good to have a day dedicated to educating people about diabetes and raising awareness about the disease. November 14 was chosen to commemorate this day as it was the birthday of Sir Frederick Banting who discovered insulin in 1922.
World Diabetes Day was officially recognized by the United Nations as a UN Holiday in 2006. This helped the global awareness campaign about diabetes reach over 1 billion people in over 160 countries.
The World Diabetes Day logo is a blue circle on a white background adopted in 2007. The blue circle symbolizes the global community coming together to respond to the diabetes epidemic.
Every year there is a different theme for World Diabetes Day, as is usual for United Nations holidays. Themes have ranged from "Protect our Future: Diabetes Education and Prevention" in 2013, to "Women and diabetes – our right to a healthy future." in 2017, and "The Nurse and Diabetes" in 2020.
It is important to educate people about diabetes and its prevention, as diabetes is growing around the world at a fast pace, and it is entirely preventable and non-communicable. However, once someone develops Type II diabetes, the disease becomes incurable and costly, and it affects people of all ages. It is necessary to improve people's health and raise awareness about the dangers of diabetes.
How World Diabetes Day is Observed
In the United States, World Diabetes Day events are organized by the American Diabetes Association.
Activities for World Diabetes Day include conferences, seminars, and speeches to educate. There is also the spread of information through the distribution of flyers, encouraging people to get tested for diabetes. TV shows, newspapers, and websites will have some kind of information dedicated to World Diabetes Day.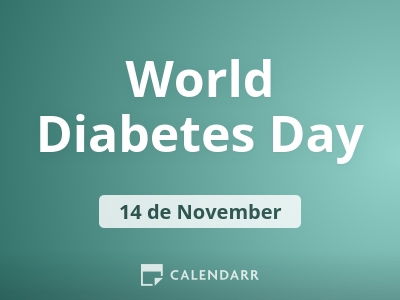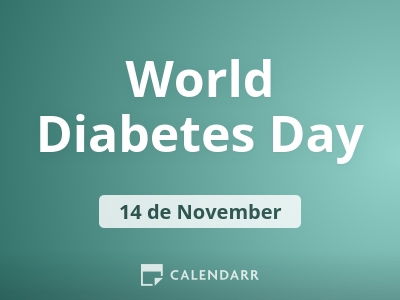 World Diabetes Day - Next years
Monday, 14 November 2022
Tuesday, 14 November 2023
Thursday, 14 November 2024
2021 Calendars