Sadie Hawkins Day
Next

Sadie Hawkins Day
Saturday, 13 November 2021
Sadie Hawkins Day is a made-up holiday that grew in popularity in the United States and became a yearly tradition. It is celebrated on November 13 (although some people choose to do it on November 15). The day is all about women taking charge and asking men out on dates. In schools, there is the Sadie Hawkins Dance, where girls invite boys to go to the dance with them, and not the other way around.
History
Sadie Hawkins was a fictional character in the Li'l Abner comic strip, done by cartoonist Al Capp. The comic strip that inspired Sadie Hawkins Day was published on November 15, 1937, and featured Sadie Hawkins as the "homely" daughter of settler Hekzebiah Hawkins. At the age of 35, Sadie was still a spinster living at home. Worried about her, her father gathered the unmarried man in the town and organized what he called Sadie Hawkins Day, where Sadie was to pursue the bachelors on a foot race, and whichever one she caught was bound to marry her. Other single women in the town liked the idea so much, that it became a yearly tradition in that fictional world.
Eventually, fiction became real, and Sadie Hawkins Day inspired college students to reenact the comic strip's celebrations. By 1939, Sadie Hawkins Day was observed in hundreds of universities across 188 cities.
Sadie Hawkins Day originated the Sadie Hawkins Dance, which became a tradition in most high schools, middle schools, and universities around the United States. The purpose of this dance is to break the tradition of boys asking girls, and instead, girls are meant to invite boys out to the Sadie Hawkins Dance. At the time that the comic strip was released, this was very unusual, and women asking men out was not morally acceptable. Sadie Hawkins Day reversed the roles and empowered some women to take control.
Nowadays, the day has received some criticism, with many regarding it as a sexist custom. However, other cultures, like the Irish, have had similar traditions for ages. For example, many countries have a tradition where women are the ones proposing marriage during a Leap Year. Of course, in modern times, many people are eschewing these norms, and women feel comfortable asking men out or proposing to them, without needing a special holiday to do so.
Sadie Hawkins Day Activities
If your school or college organizes Sadie Hawkins Day events, and you feel comfortable doing so, let this day encourage you to ask someone that you like to go to the dance with you.
Even if you don't want to celebrate Sadie Hawkins Day, let it be a reminder that societal norms can be broken, and there are no longer any rules of who should invite who on a date.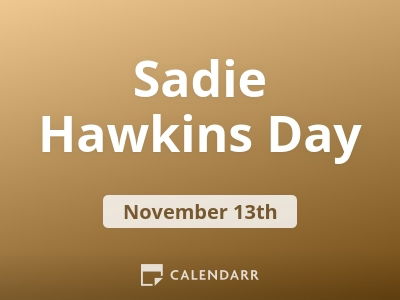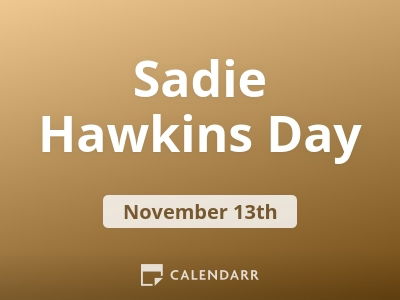 Sadie Hawkins Day - Next years
Sunday, 13 November 2022
Monday, 13 November 2023
Wednesday, 13 November 2024
2021 Calendars