World Humanitarian Day
Next

World Humanitarian Day
Thursday, 19 August 2021
World Humanitarian Day is a United Nations holiday commemorated on August 19. It is a day to honor humanitarian personnel and recognize their efforts as aid workers during humanitarian world crises, as well a day to remember those who lost their lives while in humanitarian missions. The day also raises awareness about the crucial humanitarian work that is happening around the world, and how important it is that all countries come together when it comes to assisting those in need during harder times.
History
On August 19, 2003, Sergio Vieira de Mello, the Special Representative of the Secretary-General to Iraq, and 21 of his colleagues tragically lost their lives in the bombing of the United Nations Headquarters in Baghdad. Vieira de Mello had been a humanitarian worker for the United Nations for over 30 years, and had served in many challenging humanitarian crises in the world, paying crucial help to victims of wars, helping them have a voice and raising awareness about their situation. He was a respected and honored humanitarian leader of great courage, and the loss of his life affected many who depended on his help to survive.
In 2006, his family and friends founded the Sergio Vieira de Mello Foundation, whose aim is to continue his legacy of humanitarian aid work. The foundation also promotes dialogue between communities divided by conflict, so that a peaceful resolution can be achieved.
Together with Ambassadors of Brazil, where Vieira de Mello was from, Japan, France and Switzerland, the foundation and his family went to great efforts to have August 19 designated as a day to commemorate humanitarian work as a way to honor Sergio Vieira de Mello and his colleagues. In December 2008 the United Nations General Assembly officially established August 19 as World Humanitarian Day, which was observed for the first time in 2009.
As it is common for UN special days, World Humanitarian Day has a different theme for every year. In 2011 the theme was People Helping People, and it encouraged everyone to take part in aid work. The 2012 theme was I Was Here, and inspired people to do something good for others. The campaign was helped by singer Beyonce, who made a music video for the theme, with the same name. The 2019 World Humanitarian Day campaign is all about honoring the women humanitarians and their work in world crises.
What is Humanitarian Work?
Humanitarian Aides provide short-term assistance, logistical and material, to people who have been affected by natural disasters, famine, and wars. The goals of humanitarian work are first of all to save lives, help those who are suffering, and maintain human dignity.
Humanitarian help can be provided by local or international organizations, and reaches millions of people around the world. The lives of those people very often depend on humanitarian workers.
Humanitarian work is as crucial as it is dangerous, and many humanitarians risk their lives and have lost their lives while providing help.
How World Humanitarian Day is Observed
Many organizations host events and distribute material with information about humanitarian work, to make the public aware not only of the humanitarians risking their lives but also of the many crises that are currently happening around the globe.
If you'd like to get more involved with humanitarian work there's no need to travel across the world to do so. Many people start by helping those in need in their own community. You can also show your support by donating to the international organizations that are doing the work in affected countries. The United Nations website is a great resource for those who want to help.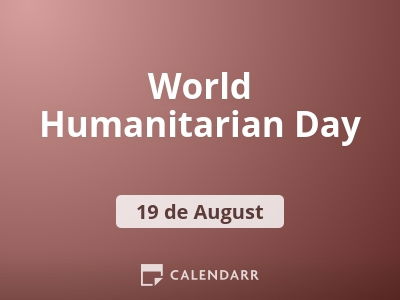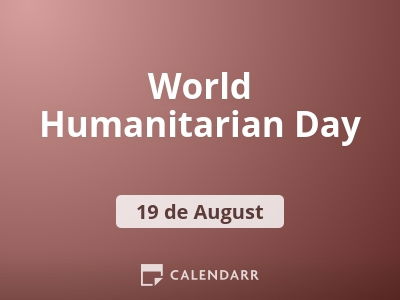 World Humanitarian Day - Next years
Friday, 19 August 2022
Saturday, 19 August 2023
Monday, 19 August 2024
2021 Calendars