World Obesity Day
Next

World Obesity Day
Friday, 4 March 2022
Every year on March 4th World Obesity Day raises awareness about the growing global obesity crisis and the health dangers of being severely overweight. The day is organized by the World Obesity Federation, whose goals are to change the way obesity is looked at across society, and end prejudice against overweight people, but also to highlight the social, environmental, and medical factors that contribute to a high obesity rate and the ways in which we can change them.
History of World Obesity Day
World Obesity Day was founded by the World Obesity Federation, with the support of the World Health Organization and the collaboration of the Lancet Commission on Obesity. It was first observed in 2015.
Every year on World Obesity Day there is a different theme to highlight an issue related to obesity. In 2016, the focus was on childhood obesity, and in 2017 the theme was "Treat obesity now and avoid the consequences later." World Obesity Day in 2018 dealt with the prevalence of weight stigma around the world.

Why is World Obesity Day Important?
According to the World Obesity Federation, obesity is a disease around which there is still a lot of stigma and prejudice. They aim to bring awareness to what causes obesity, and the ways in which it can and should be addressed and treated. To do so, they are working around the globe to change policies and ensure that obesity is prioritized as a health issue.
Obesity rates have consistently grown in past years, and according to the WHO, there are around 650 million obese people in the world (as of 2016). The United States is one of the countries where the obesity crisis prevails the most, with an adult obesity rate of 42.4% (as of 2020), one of the highest in the whole world. It is considered an epidemic in America and accounts for the cause of death of many people, as it puts them at risk of diabetes, cancer, and heart disease.
World Obesity Day promotes the resources and practical solutions that can help people treat obesity early and maintain a healthy weight and lifestyle, to avoid it turning into something serious and potentially fatal. Obesity does not discriminate and can affect people of all genders, ages, and classes. However, people that suffer from obesity can often be discriminated against. This is why it is important to raise awareness about the disease, its treatments, and end the stigma.
The good news is that, in some cases, preventing obesity can be achieved by doing some minor lifestyle changes. It is important to eat a lot of healthy foods such as fruits and veggies and avoid anything processed. Exercise is also crucial, and just 30 minutes of it a day - such as a daily walk - can make all the difference.
What to do on World Obesity Day
One of the first things you should do is get educated about obesity and the challenges that people that suffer from it face. Then, try to break some of the views you have about obese people, which can sometimes be prejudicial, and learn to be more accepting. Then you can start influencing your friends and family to do the same.
Let this day be a reminder to always keep yourself healthy and fit. Take the opportunity to cook a healthy meal from scratch, and go for a walk or a run in the park. Perhaps even bite the bullet and finally join the gym!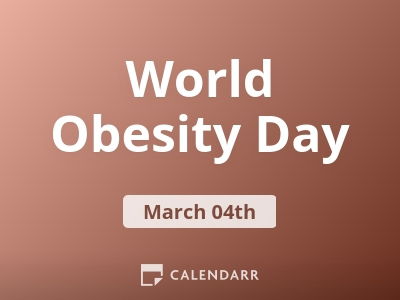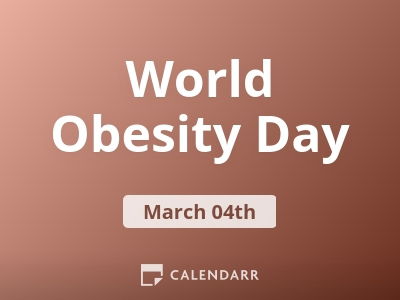 World Obesity Day - Next years
Saturday, 04 March 2023
Monday, 04 March 2024
Tuesday, 04 March 2025
2021 Calendars