World Smile Day
Next

World Smile Day
Friday, 1 October 2021
World Smile Day is celebrated on the first Friday of October. It is a day to remember to smile, feel good, and do acts of kindness for others and yourself. So forget all about your worries and differences, and dedicate this whole day to smile and be happy!
Background
We are all familiar with the smiley face symbol, it has become an essential part in how we communicate with others.
It was Harvey Ball, an artist, and designer from Massachusetts, who created the smiley face in 1963. The symbol quickly grew in popularity, and everyone was using it to communicate, in ad campaigns, on television. The smiley face was everywhere. It wasn't long until the image spread through the world, and there wasn't one person who didn't recognize it.
This rise in popularity concerned Harvey Ball, who didn't want his creation to be too commercialized, as that took away from his original intention when he created the smiley face: to have an image that symbolized cheerfulness and kindness. To stop that from happening, Ball came up with the idea for World Smile Day in 1999. He wanted people to dedicate at least one day out of the year to be kind to each other and exchange smiles with everyone, regardless of politics, religion, or any differences. After his death in 2001, the Harvey Ball World Smile Foundation took over the organization of this day.
Just taking a moment to stop and smile can instantly make you feel better, as smiling releases endorphins, which are neurotransmitters that make you feel pleasure. And making other people smile has the same effect, as you feel like you're helping other people feel happier. So share a few smiles today!
What to do on World Smile Day
Today is all about doing things that will make you feel good but that are also kind to others.
You can do this by trying to make other people smile, whether it is your friends and family or a complete stranger, by telling them a joke or doing a random act of kindness for them.
Volunteering is one of the best ways to feel better about yourself while also helping others, so check if any organizations around you could use an extra pair of hands.
If you live near Worcester, Massachusetts, the home of the smiley face, you can attend one of the events that the World Smile Foundation organizes.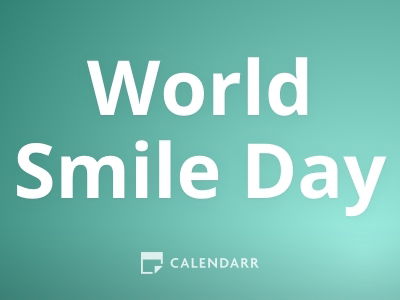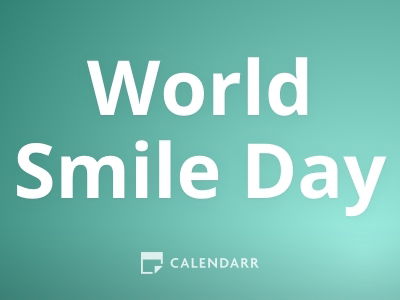 World Smile Day - Next years
Friday, 07 October 2022
Friday, 06 October 2023
Friday, 04 October 2024
2021 Calendars