All Saints' Day
Next

All Saints' Day
Monday, 1 November 2021
All Saints' Day, also known as All Hallows' Day, is a Christian holiday commemorated on the day after Halloween (or All Hallows' Eve), November 1st. It celebrates all saints of the Christian church, known and unknown, especially those who do not have a Feast Day dedicated to them.
All Saints' Day is not a public holiday in the United States, so schools and businesses remain open.
History
During the Roman Empire, Christians were persecuted and sacrificed for their faith. For the church, these people were martyrs who would receive a special place in Heaven, and special days were dedicated to celebrate their lives and their sacrifice. When in 607 the Pope was gifted the Roman Pantheon temple, all pagan imagery was removed and the Pantheon became the resting place for all the saints who had died from Roman persecution after Christ.
Because over the three hundred years there were many Christian martyrs, it was impossible to dedicate a day to honor each one of them. And thus All Saints' Day was created in 609. The celebration was moved to November 1st by Pope Gregory III in 837 CE, and the date has since remained.
All Saints' Day also commemorates the belief that there is a connection between those who have died and are in Heaven and those who still live on Earth. On Halloween, the day before All Saints' Day, Christians hold a vigil for all of those who have lost their lives and gone to Heaven, Saints and Christians alike. The day after All Saints' Day is All Souls' Day, that celebrates not just martyrs, but all Christians who have died but have not reached Heaven.
All Saints' Day Facts
All Saints' Day is a holy day of obligation, which means that Christians must attend mass on this day.
Some churches celebrate All Saints' Day on the first Sunday of Pentecost.
In some Catholic countries, it is a public holiday and people have the day off.
All Saints' Day is one of the three days in Allhallowtide.
The color for All Saints' Day is white.
How All Saints' Day is Celebrated
On All Saints' Day, most Christians in the United States attend service and mass at their local church. While praying, people are encouraged to think about their connection to saints and be inspired by their stories.
Many people, especially in New Orleans, follow the tradition of visiting their loved ones' graves and decorating them with flowers, wreaths, and bouquets, and light candles for them so they can find their way to Earth on this day.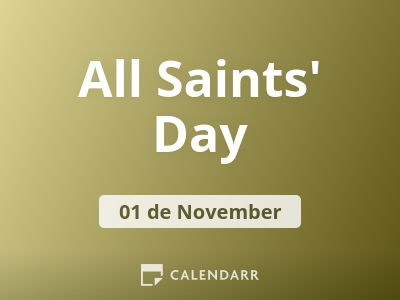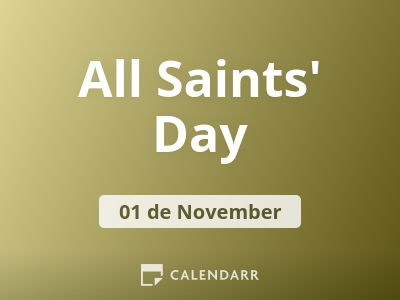 All Saints' Day - Next years
Tuesday, 01 November 2022
Wednesday, 01 November 2023
Friday, 01 November 2024
2021 Calendars