All Souls' Day
Next

All Souls' Day
Tuesday, 2 November 2021
All Souls' Day, also known as Day of the Dead, is celebrated on November 2nd. In the United States, this is a day of prayers for the deceased and the souls that remain in purgatory. People remember their loved ones who have departed in various ways, most commonly by visiting them in the cemetery, decorating their graves, and lighting candles in their honor.
In areas of the United States with a large Latin American community, there are celebrations for the Dia de Los Muertos. These consist of festivals and parades, where people wear colorful masks and put up fancy decorations in honor of the departed, much like it happens in Mexico.
All Souls' Day is often confused with All Saints' Day, but November 2nd is dedicated to Christians souls who have left this world, and November 1st honor the Saints of the Catholic church.
All Souls' Day is not a Public Holiday in the United States, so schools and businesses remain open.
History
While civilizations have honored the dead with festivals and celebrations for centuries, the origins of All Souls' Day as a Christian observance date back to 993 CE. It was established by Saint Odilo, the abbot of the monastery in Cluny, France, who suggested that the day after All Saints' Day should be dedicated to those who have departed this world, especially those whose soul was still in purgatory. The day was to be observed with prayers and alms, and those who wanted a mass dedicated to a deceased loved one should donate to the poor. The tradition quickly spread through Catholic countries.
The Dia de Los Muertos was celebrated by the Aztecs and pre-Hispanic civilizations over 3000 years ago. It was then that the Skull became a symbol for the Day of the Dead, and it has the meaning of death and rebirth, decorated and used for rituals. For the Day of the Dead, people decorate altars in honor of their loved ones who have died with flowers, candles, photos, mementos, and skulls, so that they can find their way to the world of the living for the day.
How to celebrate All Souls' Day
This is a day for the living to offer prayers for the dead, so most people go to Mass on All Souls' Day and pray for those who have departed, many light candles in their honor. The prayers are mostly dedicated to those souls who have remained in purgatory so that they can rest in peace.
Many choose this day to visit the cemeteries and decorate their loved ones' graves, remember them and pay their respects.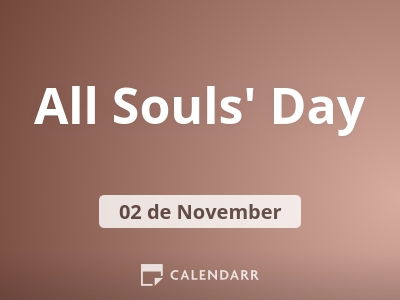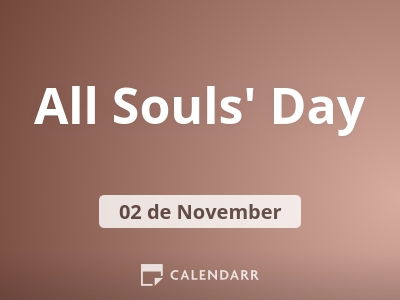 All Souls' Day - Next years
Wednesday, 02 November 2022
Thursday, 02 November 2023
Saturday, 02 November 2024
2021 Calendars