Pioneer Day
Next

Pioneer Day
Saturday, 24 July 2021
Pioneer Day is a holiday in Utah commemorated on July 24. It is a celebration of the arrival of the first Mormon settlers and Brigham Young into the Salt Lake Valley in 1847, and their perseverance. It is a very important day in the state of Utah, where celebrations include parades and fireworks.
Although the origins of the holiday are religious, everyone is invited to celebrate Pioneer Day, as it is also a day to honor all of the pioneers who settled in Salt Lake Valley during the 19th century.
Pioneer Day is a state holiday in Utah, so businesses and schools are closed, and people have the day off work.

History
Victims of religious persecution in Nauvoo, Illinois, the Mormon people led by Brigham Young, were forced to leave their settlement to seek safety and a new place where to live and practice their faith. Upon arriving in Salt Lake Valley on July 24 1847, the Mormon pioneers believed that this was the place where they were to found the Mormon homeland.
They chose the valley in Utah as it was past the Rocky Mountains and therefore isolated land. The Salt Lake Valley was a desolate land when they arrived, but they soon got to work farming it to plant food for sustenance, and build a dam and their houses and public buildings. Hearing about this new safe homeland, Mormons from around the country flocked to Salt Lake Valley, and 2000 had gathered there by the end of 1847.
Origins of Pioneer Day
The first commemorations of Pioneer Day took place two years after their arrival in Salt Lake Valley. The festivities were led by the Nauvoo Brass Band.
From 1857 to 1862, Utah was occupied by Federal Troops and Pioneer Day celebrations were canceled. In 1862, after the beginning of the Civil War, Lincoln introduced a hands-off policy in Utah, and celebrations resumed as normal, extending to the Intermountain West, where the Mormon population had grown to. Commemorations in 1886 were mournful and tainted by the anti-polygamy laws that had been established in America.
Who was Brigham Young?
Brigham Young was the president of the Mormon Church of Jesus Christ of Latter-day Saints, and the official founder of Salt Lake City, where the Mormon pioneers settled. He was also the first governor of Utah. Many refer to him as the "American Moses".
Pioneer Day Celebrations
Salt Lake City is the home to many grand Pioneer Day Celebrations, as some see this as the most important commemoration in Utah.
On July 24, crowds gather to see the fireworks at Liberty Park and the Days of '47 Parade. Another popular event is the Days of '47 Rodeo. Others prefer to observe the holiday by running the Deseret News Marathon.
For those who are not Mormon, a celebration has grown popular in the past years, known as the Pie & Beer Day.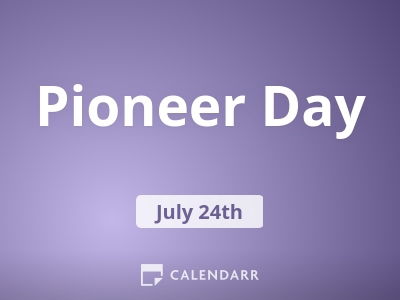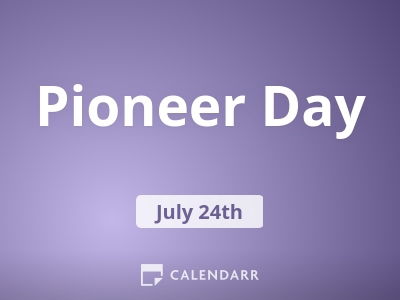 Pioneer Day - Next years
Sunday, 24 July 2022
Monday, 24 July 2023
Wednesday, 24 July 2024
2021 Calendars