Armed Forces Day
Next

Armed Forces Day
Saturday, 15 May 2021
Armed Forces Day is commemorated annually and in the United States, it falls on the third Saturday of May. In 2020 it will take place on May 16. The day aims at honoring the men and women of the United States' armed forces and also at raising the general public's awareness to the role that the military play in everyday life.
The day is part of Armed Forces Week, which begins on the second Saturday of May and ends on the third Sunday of May.
It is not a federal holiday, and as such businesses remain open.
History
Before Armed Forces Day was created, each different branch of the military had their own separate day to commemorate their troops.
It was on August 31, 1949, that Secretary of Defense Louis Johnson declared that a new day would be added to the national calendar to pay tribute to all the branches of the United States military - the Army, the Navy, the Marine Corps, the Air Force and the Coast Guard. This day was to be called Armed Forces Day. This happened after the creation of the Department of Defense, which unified all of the armed forces'. While these military services celebrate Armed Forces Day, each department still observes its own separate day as well.
The first official Armed Forces Day took place on May 20, 1950. The day was marked by parades and air shows, as well as open houses where people could go to and get acquainted with military equipment, jobs, and roles.
In 1961, President JFK officially declared Armed Forces Day a national holiday to be observed on the third Saturday of May.
How it is Observed
For Armed Forces Day people across the United States celebrate by throwing parades that feature air shows, military marching bands, and military vehicles, to display their support for the troops that give their lives to serve the country.
The military services will host open days, where the public can visit their bases and learn more about what the military do. Special educational events are aimed towards the children, so they can learn more about the armed forces.
Every year there is a theme for the commemoration of Armed Forces Day. The first one, in 1950, was Teamed for Defense. Since then, themes have included Power for Peace, Freedom Through Unity and Dedication and Devotion.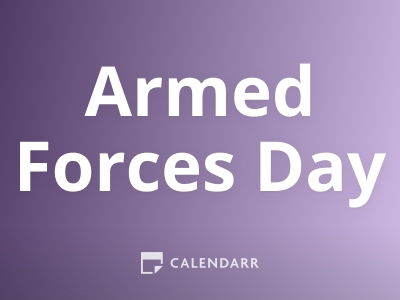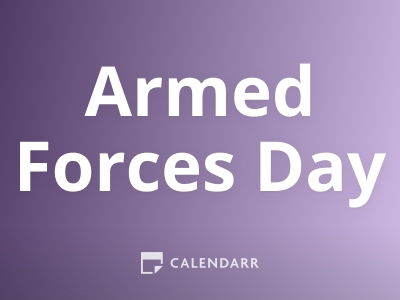 Armed Forces Day - Next years
Saturday, 21 May 2022
Saturday, 20 May 2023
Saturday, 18 May 2024
2021 Calendars