Memorial Day
Holiday
Next

Memorial Day
Monday, 31 May 2021
Memorial Day is observed in America on the last Monday of May, and it is a day to commemorate and remember the men and women who lost their lives while in service for the US military. It is a federal holiday, and as such, businesses and schools are closed, and most people have the day off work.
Originally named Decoration Day, it was officially made into a federal holiday in 1971. Traditionally, people will visit cemeteries and memorials for American soldiers, and there are several parades around the country. It also unofficially marks the beginning of the summer season.
The origins of Memorial Day
It is unclear where Memorial Day was first observed, but the day was created right after the end of the Civil War, in 1865. At the time, the American Civil War was the event that took more lives in U.S. history, it is estimated that around 620,000 soldiers died during it. As such, in the late 1860s, people began organizing tributes to the lost soldiers, by decorating their graves and paying their respects.
While it is unknown where Memorial Day started, several independent communities and states likely put up their own memorials. However, records show that the earliest commemoration of the fallen soldiers was held by recently freed slaves.
Officially, Waterloo, New York is known as "The Birthplace of Memorial Day" as it was there that the first annual, wide event was held on May 5th in 1966.
Decoration Day
On May 5th 1868, General John A. Logan, alongside a group of Nothern Civil War Veterans, pushed for a national day of remembrance for the lost soldiers of the conflict. He chose the 30th of May for this purpose, proclaiming that people should show respect by decorating the graves of the dead, thus why it was called Decoration Day.
The 30th of May was chosen to honor this day, as it was a date that didn't mark any significant battles in history.
The first time that this day was celebrated, a total of 5,000 participants decorated the graves of 20,000 soldiers.
All Northern Days followed this tradition, and by 1890 all of them had made it into a state holiday. However, Southern States did not acknowledge Decoration Day until World War I, when the day was meant to celebrate all of those who sacrificed their lives for the country in American wars, and not just those fallen during the Civil War.
How Decoration Day became Memorial Day
After the loss of life in World War I, it was necessary to have a day to commemorate all members of the American Military who died while in service.
In 1968, the Uniform Monday Holiday Act was passed by congress, and Memorial Day went from being celebrated on the 30th of May, to be celebrated on the last Monday of May, to give American workers a three day weekend. Hence why the end of May is also known as Memorial Day Weekend. This was officialized in 1971 when Memorial Day was also made into a federal holiday.
How Memorial Day is celebrated
During Memorial Day, all American flags must be flown at half staff until noon, after which they should be raised until sunset.
In December of 2000, the National Moment of Remembrance was instated, encouraging Americans to observe a moment of respect and silence at 3 p.m in honor of all who lost their lives in battle.
People commemorate this day by visiting cemeteries and memorials and laying wreaths and American flags on the graves of soldiers. Most also wear a Red Poppy, which gained meaning as a symbol of remembrance by the World War I poem "In Flanders Fields". As this day usually announces the arrival of Summer, people also take the long weekend to travel, throw parties and enjoy barbecues with friends and family.
The biggest Memorial Day parades can be observed in Chicago, New York and Washington D.C.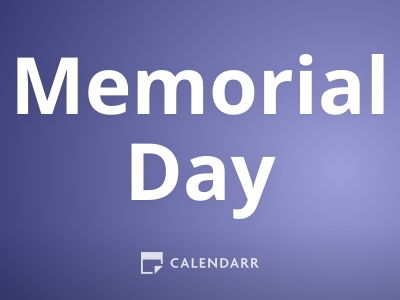 Other Celebrations
National Pet Memorial Day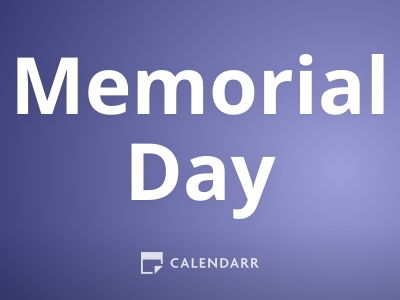 Memorial Day - Next years
Monday, 30 May 2022
Monday, 29 May 2023
Monday, 27 May 2024
2021 Calendars