Navy Birthday
Next

Navy Birthday
Wednesday, 13 October 2021
Navy Birthday on October 13 commemorates the day when the United States Navy was founded, in 1775. The day is generally observed by Navy troops and veterans, with a big formal dinner and Navy Birthday Ball. This day also honors the men and women who serve or served the country in the Navy.
Navy Birthday celebrates the establishment of the Navy branch of the military, and it is not to be confused with Navy Day which is observed on October 27.
This is not a public holiday, so schools and businesses remain open.
Background
Having been built by seafaring colonizers, the United States has had a strong naval tradition since its inception. During the Second Continental Congress, in the beginning of 1775, it was suggested that the country needed a naval force to defend the cost and protect imports and exports. However, there was some initial opposition to this idea. It was only on October 13, 1775, that the Continental Congress ordered two sea vessels to be armed to protect the coast and ambush British vessels carrying weapons and supplies for the British Army during the Revolutionary War. This forced was originally named the Continental Navy, and it established the foundations for the current United States Navy.
After the end of the Revolutionary War, the Continental Navy was dismantled. Without naval protection for almost a decade, the United States' supply ships were vulnerable to several attacks by pirates. So, in 1794, President George Washington and Congress passed the Naval Act of 1794, which effectively established a permanent standing Navy in the country.
The United States Navy is one of the most important branches in the military and the current most powerful naval warfare service in the world. Its fleet grew significantly during World War II with the introduction of submarines and aircraft carriers. Currently, the U.S. Navy has 40 bases around the country, and over 340,000 active troops, with 71,000 in the Reserve.
Navy Birthday was observed on October 27 from 1922 to 1972. In 1972 the date was changed to October 13, as that day is more relevant in the history of the military force.
How to celebrate Navy Birthday
Usually, the Navy throws a big Navy Birthday Ball and dinner for all its personnel, Veterans, and family members.
If you are not part of the Navy, but would still like to celebrate and learn more about this branch of the military, there are several museums across the country dedicated to the U.S. Navy's history. Many ships that have been decommissioned allow visitors to come and tour them, which is the perfect opportunity to learn more about the technical workings of the Navy. Finally, if you live near Washington D.C, take a day trip to the U.S. Navy Memorial.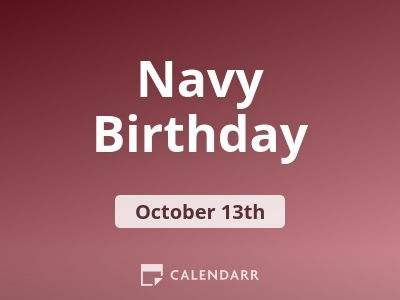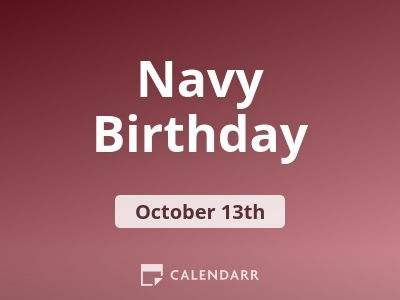 Navy Birthday - Next years
Thursday, 13 October 2022
Friday, 13 October 2023
Sunday, 13 October 2024
2021 Calendars