Holiday Veterans Day
Veterans Day
Holiday
Next

Veterans Day
Monday, 11 November 2024
Veterans Day is observed annually on November 11. If it falls on Saturday, the Friday before may be used for the holiday instead. If it occurs on a Sunday, then Monday may be used.
It is a federal holiday, so most schools and businesses are closed. However, this may vary from state to state. Local governments, schools, and businesses are not required to close so you may need to check locally to see what is and isn't open.
What Is Veterans Day?
Veterans Day is held in honor of all military veterans, including both the fallen and the living, who have served in the United States Armed Forces, during wartime or peacetime. While Veterans Day celebrates retired soldiers and victims inclusive of all wars on the same day annually, the date of November 11 was originally designated in 1919 as it coincided with commemorating the end of World War I. Until 1954 when it was replaced, Veterans Day was known as Armistice Day.
The observance should not be confused with Memorial Day, the holiday in May, which is held in remembrance of all those who have died in military service.
Veterans Day is known as Remembrance Day or Armistice Day in the UK and Commonwealth nations. In the UK poppy wreaths are laid at commemorative sites in remembrance and people often choose to wear a poppy pinned to their clothes. In most countries, there is a moment of silence at 11 a.m. as a mark of respect. While commemorations and ceremonies vary, the significance of the date remains the same.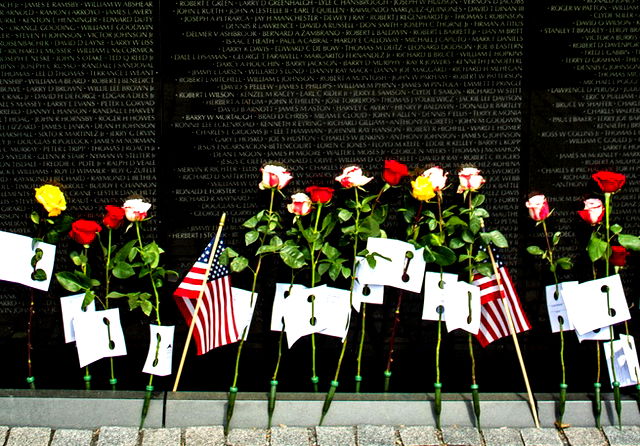 History of Veterans Day
11th of November 1918
The origins of Veterans Day are in 1918, when an armistice, a suspension of hostilities, between the Allies and Germany took place. The eleventh hour of the eleventh day of the eleventh month of 1918 was seen by many as the end of The Great War.
1919
When the Treaty of Versailles was signed on June 28 1919 in the Palace of Versailles, Versailles, France, this marked the official end of the First World War.
In this same year, President Woodrow Wilson honored the end of World War I by proclaiming November 11 Armistice Day. He issues these words:
"To us in America, the reflections of Armistice Day will be filled with solemn pride in the heroism of those who died in the country's service and with gratitude for the victory, both because of the thing from which it has freed us and because of the opportunity it has given America to show her sympathy with peace and justice in the councils of the nations…"
1926
The US Congress passed a resolution officially commemorating November 11.

"recurring anniversary of [November 11, 1918] should be commemorated with thanksgiving and prayer and exercises designed to perpetuate peace through goodwill and mutual understanding between nations".
1938
Armistice Day was officially established as a legal holiday in the United States through an act of Congress on May 13, 1938.
1954
Since the establishment of Armistice Day, millions of Americans had taken part in World War II, and the Korean War, and so veterans service organizations petitioned for the 1938 Act to be changed.
President Dwight D. Eisenhower agreed and renamed the day Veterans Day. From that point on November 11 became a day to honor American veterans of all wars.
1971
Veterans Day was moved to the fourth Monday in October so that people could celebrate it with a three-day weekend.
Many states did not agree with this decision, and some continued to observe the original date.
1975
President Gerald R. Ford signed a law reestablishing November 11 as the annual observance of Veterans Day.
From 1978 Veterans Day was once again celebrated in November.
Not Just a Day
In 2008 rather than just celebrating Veterans Day, A resolution was passed in Congress designating the week of November 9 through November 15, 2008, as 'National Veterans Awareness Week'. The time was used with direct educational efforts in elementary and secondary schools to highlight veterans' contributions and sacrifices. In some parts of America 'National Veterans Awareness Week' has continued to be observed by communities with events, workshops, and ceremonies.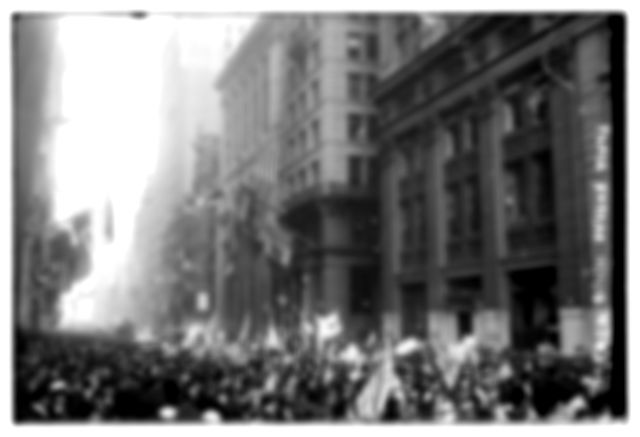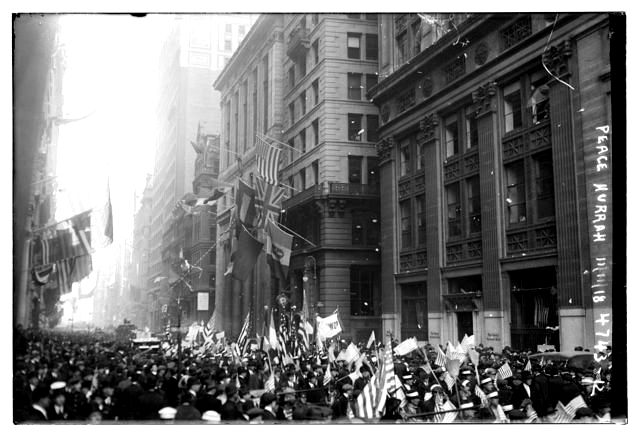 How to Celebrate Veterans Day Today
In 2021, there were around 19 million veterans recorded in the United States. Veterans Day is a celebration of all they have done for their country. It also encourages citizens to think about the many challenges that veterans face, including post-traumatic stress disorder, recovery from injuries, settling back into a civilian lifestyle, and other problems.
We can choose to celebrate our veterans in all manner of ways, these include:
Serving Veterans: Some Veterans Day schemes encourage companies to think about offering veterans employment, or products and services for free. A great way of giving back is to volunteer at a soup kitchen offering free meals to veterans.
Learning about Veterans: Some schools host educational programs for their students and may participate in community programs.
Official Events: Local communities take part in events to celebrate Veterans. These can include parades, Church services, military band concerts, and sponsored runs.
The American flag is hung at half-mast. There are also gun salutes. A period of silence is observed at 11 a.m. for 2 minutes.
At Arlington National Cemetery, the Veterans Day National Ceremony is held. It begins with a wreath-laying at the Tomb of the Unknown Soldier, a monument for those whose remains have not been identified. You could travel to a memorial site honoring US veterans to participate, or simply show your gratitude and appreciation from home by flying your own flag. You can celebrate virtually, at home, or at work, by showing your support online via social media.
Whatever way you choose to celebrate Veterans Day, showing your support and appreciation for Veterans for their service to the United States of America will go a long way.
Facts About Veterans Day:
Until 1954, Veterans Day was known as Armistice Day. While Armistice Day was principally celebrated to honor the heroes from World War I, the change of name brought about a more inclusive day to celebrate since Veterans Day honors all of those involved and affected by war.
It was former US President Dwight D. Eisenhower, a US Army general, who instigated that Veterans Day replace Armistice Day.
World War II (WWII) saw the highest number of US Military personnel fight for their country with over 16 million deployed. That's over 3 times the amount of WWI.
Veterans Day is often misspelled as Veteran's Day. Since the holiday doesn't belong to just one Veteran as it is inclusive and celebrates all Veterans, it's Veterans Day.
Did you know that Veterans Day is one of the three military holidays, alongside Memorial Day and Independence Day?
Memorial Day is not another name for Veterans Day, it's a different day entirely. Memorial Day honors those specifically who have died in the line of duty.
Veterans Day honors all US Armed Forces departments, including the US Army, US Air Force, US Marine Corps, US Navy, US Coast Guard, and most recently, US Space Force.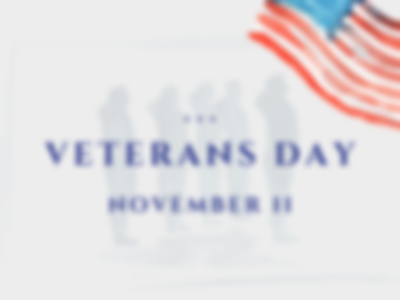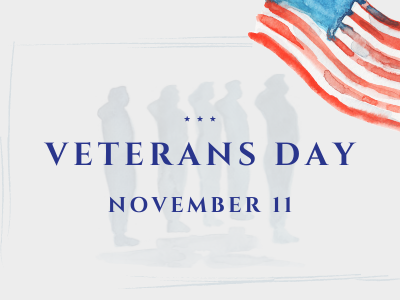 Other Celebrations
Veterans of Foreign Wars (VFW) Day

National Pets for Veterans Day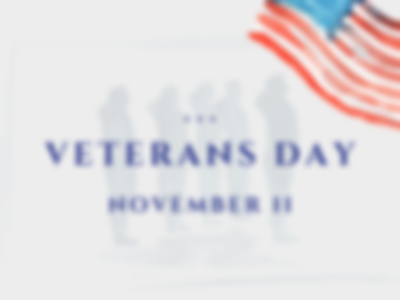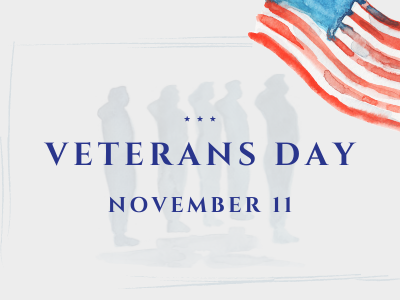 Veterans Day - Next years
Tuesday, 11 November 2025
Wednesday, 11 November 2026
Thursday, 11 November 2027
2023 Calendars