Veterans Day
Holiday
Next

Veterans Day
Thursday, 11 November 2021
Veterans Day is observed annually on November 11. If it falls on Saturday, the Friday before may be used for the holiday instead. If it occurs on a Sunday, then Monday may be used. It is a federal holiday, so most schools and businesses are closed. However, state and local governments, schools and businesses are not required to close. Check locally.
What Is Veterans Day?
Veterans Day is held in honor of all military veterans, including the living, who have served in the United States Armed Forces, during wartime or peacetime.
The observance should not be confused with Memorial Day, the holiday in May, which is held in remembrance of all those who have died in military service.
Veterans Day coincides with Remembrance Day and Armistice Day in the UK and Commonwealth nations.
History of the Day
1918 - The official end of the First World War comes into effect when the Treaty of Versailles is signed on June 28, 1919, in the Palace of Versailles, Versailles, France. However, an armistice, a suspension of hostilities, between the Allies and Germany took place at the eleventh hour of the eleventh day of the eleventh month of 1918. Therefore, November 11, 1918, is seen as the end of The Great War.
1919 - One year later, President Woodrow Wilson honors the end of World War I by proclaiming November 11 Armistice Day. He issues these words: "To us in America, the reflections of Armistice Day will be filled with solemn pride in the heroism of those who died in the country's service and with gratitude for the victory, both because of the thing from which it has freed us and because of the opportunity it has given America to show her sympathy with peace and justice in the councils of the nations…"
1926 - The United States Congress officially passes a resolution that the "recurring anniversary of [November 11, 1918] should be commemorated with thanksgiving and prayer and exercises designed to perpetuate peace through goodwill and mutual understanding between nations".
1938 - Congress passes legislation that November 11 be "dedicated to the cause of world peace and to be hereafter celebrated and known as 'Armistice Day.'" Its primary purpose is to honor those who participated in World War I.
1954 - As millions of Americans have taken part in World War II, and the Korean War has also involved United States forces, veterans service organizations petition for the 1938 Act to be changed. President Dwight D. Eisenhower concedes and replaces the word "Armistice" with the word "Veterans". November 11 thus becomes a day to honor American veterans of all wars. On October 8, President Eisenhower issues the first "Veterans Day Proclamation"
1968 - The Uniforms Holiday Bill moves Veterans Day to the fourth Monday of October to ensure that federal employees get a three-day weekend break. Many states do not agree with the decision.
1971 - The first Veterans Day takes place in October. However, many states continue to observe the original date.
1975 - President Gerald R. Ford signs a law reestablishing November 11 as the annual observance of Veterans Day.
1978 - Veterans Day is once again celebrated on November 11.
2008 - A resolution designates the week of November 9 through November 15, 2008, as 'National Veterans Awareness Week' to direct educational efforts in elementary and secondary schools to highlight veterans' contributions and sacrifices.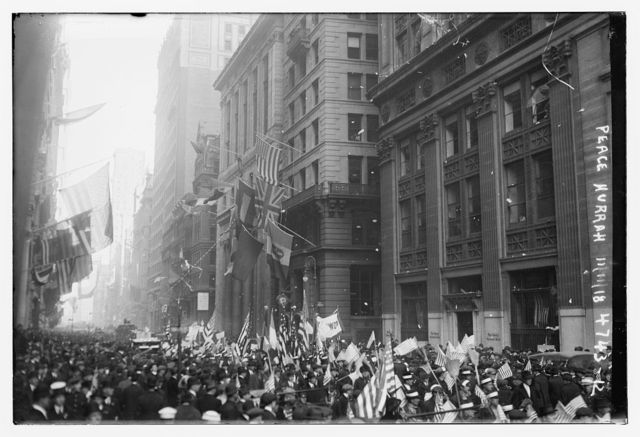 How It Is Observed Today
There are 18.2 million veterans in the United States today. Veterans Day is celebrated to thank them. It also encourages citizens to think about the many challenges that veterans face, including post-traumatic stress disorder, recovery from injuries, settling back into a civilian lifestyle, and other problems.
Some Veterans Day schemes encourage companies to think about offering veterans employment, or products and services for free.
Schools host educational programs for their students and may participate in community programs.
Official events are held in support of veterans in local communities. For example, parades, Church services, military band concerts, and sponsored runs. The American flag is hung at half-mast. There are also gun salutes. A period of silence is observed at 11 a.m. for 2 minutes.
At Arlington National Cemetery, the Veterans Day National Ceremony is held. It begins with a wreath-laying at the Tomb of the Unknowns, a monument for those whose remains have not been identified.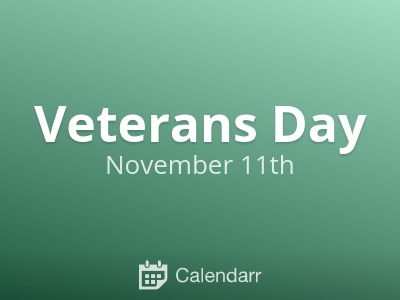 Other Celebrations
National Pets for Veterans Day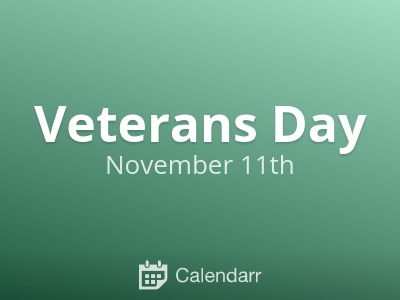 Veterans Day - Next years
Friday, 11 November 2022
Saturday, 11 November 2023
Monday, 11 November 2024
2021 Calendars