Comic Book Day
Next

Comic Book Day
Saturday, 25 September 2021
National Comic Book Day, or just Comic Book Day, is celebrated in the United States on September 25. Both children and adults alike love comic books, and the genre has evolved from being just funny picture books to beautiful works of art that tell the stories of superheroes, anime characters, and many others. Comic books are a great source of entertainment and many people love them so much that they collect them, so of course, they need a day to be celebrated!
This day is not to be confused with Free Comic Book Day which happens in May.
Background
The origins of National Comic Book Day are uncertain, but one thing is sure, Comic Books initially gained popularity in America. The Adventures of Mr. Obadiah Oldbuck was first published in 1842, written by Rodolphe Töpffer, and is considered to be the first known prototype of the comic book printed in America.
Modern comic books as we know them derive from a comic book published in 1933 in America called Famous Funnies. This was the first standard-sized comic book to be made available to the public. This was a collection of comic strips that had been published in newspapers.
Then, in 1938, Joes Shuster and Jerry Siegel created the first Superman comic book effectively starting what is considered to be the Golden Age of comic books. This was the first superhero comic to be published, and it started the huge industry that we know and love now. The superhero story was revitalized in the 1970s by Marvel Comics with the introduction of many other heroes, such as Spiderman. This was also the time when comics began dealing with more serious issues, such as racism.
Comic books have expanded into many different styles and storylines now, and have become a huge industry. There are not just superheroes now, but something for every taste, such as the famous Adventures of Tintin, Lucky Luke, Peanuts, Calvin and Hobbes and Asterix for those who love more classic comics. Japan also produces some of the best comic books in the style of Anime and Manga, with famous names such as Naruto and One Piece.
Comic books have remained popular throughout the years because they are great to teach children about values and responsibility, as well as encouraging them to read. Comics are also timeless, which means that they can be enjoyed at any age in any generation.
What to do on Comic Book Day
If you are a comic book lover, see if there are any conventions or comic book store events near you, and go mingle with some like-minded people and learn about the latest comic book releases. You might find your new favorite!
If you're an artist and a writer, this is the perfect day to give it a go and make your own comic book.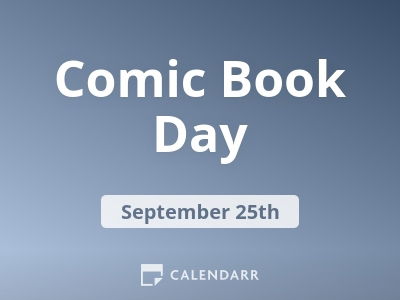 Other Celebrations
International Book Giving Day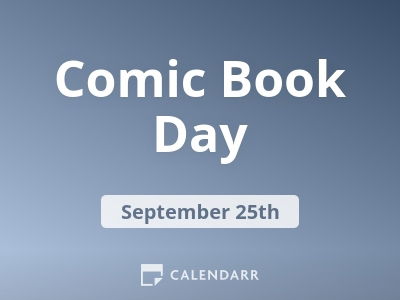 Comic Book Day - Next years
Sunday, 25 September 2022
Monday, 25 September 2023
Wednesday, 25 September 2024
2021 Calendars