Read a Book Day
Next

Read a Book Day
Monday, 6 September 2021
National Read a Book Day falls on September 6. It is a day for all book lovers to get lost in that novel that they've been wanting to read for a while, and it is also a day for those who don't usually read to give books a chance and get lost in the world of literature. Books are great forms of escapism, allowing us to get away from our lives for a bit, but they are also crucial in helping us expand our knowledge and challenge our perspectives.
So, on Read a Book Day, turn off your TV, put your phone down away from you, and delve into a good book!
Background
The origins of Read a Book Day are unclear, but it is likely the creation of someone who wanted to encourage people to read more. In general, Americans love reading but feel like they don't have enough time in the day to do it, so this is the perfect opportunity to pause, sit down, and turn those pages.
The majority of people prefer to read in the comfort of their own home and take some time before bed to get a few pages in. Others take some moments of their daily life to read a few chapters of their book, such as during their commute to work, while they're waiting for an appointment, or during their lunch or coffee break.
Although books have existed for centuries, with the first printed books existing between 618 and 907 AD in China, books became popular with the general population around the 17th century when the mass production of books increased, making them available for everyone. Since then, most people still prefer the traditional way of reading a physical book and flicking through the pages. However, books technology has significantly evolved in the past few years, and now people can read digital books on their kindle, phone, or tablet, which can be more practical if you want to bring a lot of books while traveling. Some people don't have the patience to sit down and read, so they consume their literature through audiobooks while working, cooking, or commuting.
What to do on Read a Book Day
The obvious answer is, read a book! Find the time to finish that book that has been sitting on your nightstand for a while, or start that book that you've been wanting to read that you haven't started yet.
If you'd like to get into reading but lack the motivation to keep up with it, join a book club! They are very popular and have set reading goals to meet, which will make you want to finish the book so you know what to talk about during your meetings.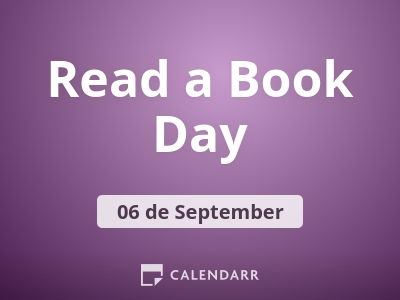 Other Celebrations
International Read to Me Day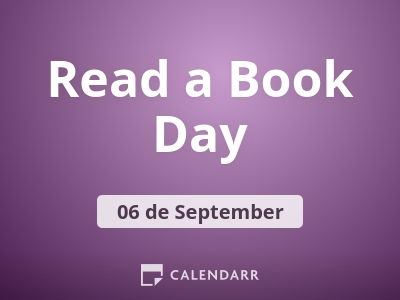 Read a Book Day - Next years
Tuesday, 06 September 2022
Wednesday, 06 September 2023
Friday, 06 September 2024
2021 Calendars