World Book Day
Next

World Book Day
Friday, 23 April 2021
World Book Day, also known as World Book and Copyright Day, is a United Nations holiday sponsored by UNESCO, celebrated every year on April 23. This day aims to promote reading across all communities, and to encourage people to engage with different types of literature, and discover the benefits of reading. The main focus is on children and young people, to instill in them the love for books and to promote reading for pleasure, in order to contribute to their future and development.
On the other hand, World Book Day pays tribute to all of those who work behind the scenes to create books for us - writers, publishers, and copywriters.
This day is not to be confused with the World Book Day that is celebrated in the United Kingdom and Ireland on the first Thursday of March.
History of World Book Day
During the UNESCO General Conference held in Paris in 1995, delegates discussed the idea of having an annual celebration of books and authors, to promote reading across the world, and to teach children about the wonders of reading for pleasure. The day chosen for this observance was April 23, in tribute to several famous authors who had their birth or death on this date, such as Miguel de Cervantes, William Shakespeare, and Vladimir Nabokov, among others.
World Book Day has been celebrated every year since April 23, 1995, although some countries choose to celebrate it on a different day.
Unlike many other UN holidays, World Book Day does not observe a different theme each year.
Why do we Celebrate World Book Day?
Reading books is crucial for children's development, but it is also a habit that can have a huge impact on anyone, regardless of their age. Reading regularly for pleasure has many benefits, it stimulates our mind and increases our vocabulary, it teaches us new things and improves our focus, it can help us relax and reduce stress, and it also develops our thinking skills and opens up our eyes to different perspectives.
For children, it stimulates their imagination, teaches them empathy and encourages them to interact with and discover the outside world. According to the World Book Day website, reading for pleasure has a bigger positive impact on a child's future than any other factors of their upbringing, such as income or parents' educational background.
World Book Day encourages this love for reading and makes books more accessible to children, especially those of disadvantaged circumstances, to instill in them the habit of reading and improving their lives. Even 10 minutes a day spent reading, or being read to, can have a big impact on a child's life and future.
This day is celebrated in over 100 countries, with hundreds of sponsoring organizations, schools, and public groups bringing World Book Day to millions of people. It also gives people a great opportunity to learn about what goes into making a book, and to discover new authors and genres of literature.
How to Celebrate World Book Day
Events for this day are mainly organized by libraries and schools, and include public readings, Q&A's with authors, writing competitions, and distribution of free books and bookmarks.
In the United States, there is an annual street festival held for World Book Day in Kensington, Maryland, on the Sunday closest to April 23.
Celebrate this day by taking a trip to the library or the bookshop and picking up new books from authors you've never read, or re-read an old favorite book. If you have children take them with you and let them pick their own books to read, or that you can read to them. You can also donate to your local library to help make books accessible for everyone in your community.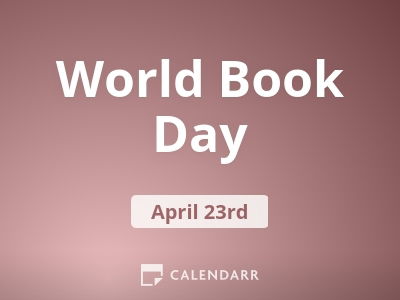 Other Celebrations
International Book Giving Day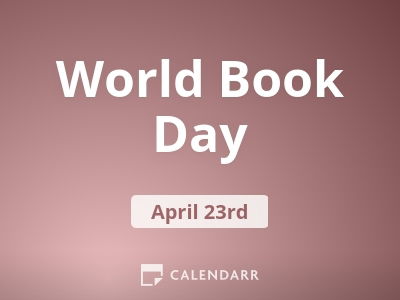 World Book Day - Next years
Saturday, 23 April 2022
Sunday, 23 April 2023
Tuesday, 23 April 2024
2021 Calendars