Galentine's Day
Next

Galentine's Day
Sunday, 13 February 2022
Galentine's Day is a pop-culture holiday, celebrated on February 13. It originated in the TV show Parks and Recreation and was quickly adopted by people in real life. Galentine's Day is like Valentine's Day for female friendships, a day to celebrate your women friends and shower them with gifts and appreciation. Female friendships are one of the strongest bonds between people, women love to support their friends, they are great listeners, and are always there for their friends, so it's no wonder this fictional holiday became so popular!
Background
"Galentine's Day" is the name of an episode from the TV Show Parks and Recreations, released on February 11, 2010. In it, the main character Leslie Knope throws the annual Galentine's Day party on the day before Valentine's Day and celebrates it with all her female friends. In it, Leslie declares that the way platonic female love between friends should always be celebrated with a long brunch, many balloons, and an exchange of presents and life stories.
In Leslie Knope's words "Every February 13, my ladyfriends and I leave our husbands and our boyfriends at home, and we just come and kick it, breakfast-style. Ladies celebrating ladies."
After the episode aired, this holiday quickly became popular with women in real-life, and many adopted the celebration for their friend groups. This is a display of how important friendships have become in later years. Whereas before friendships were considered to be secondary to relationships such as marriage, kids and family, nowadays more people acknowledge that friendships play a huge role in shaping who we are, and friends are crucial people in everyone's lives, helping us navigate the world, offering support and advice, and always being there for a good time. Especially for younger people, friendships provide stability and meaning and complement all other relationships.
This is often true of female friendships. The bond between women is strong, built on common experiences, understanding, and support. It is true that female friendships can sometimes be under or misrepresented, which is why Galentine's Day resonated with women across America - it gives them a chance to show their girlfriends how much they appreciate them.
The day is especially popular on social media, where people share posts with their girlfriends with the hashtag #GalentinesDay. Many businesses also take advantage of the popularity of this day to sell Galentine's Day cards, merchandise, spa deals, and discounts on brunches.
How to Celebrate Galentine's Day
If you and your friends are getting together to celebrate Galentine's Day, you must do it over brunch! Whether you all get together at your favorite restaurant or do it virtually over a video call, Leslie intended for this day to be filled with waffles, frittatas, and bottomless drinks.
Take this day to catch up on each other's lives, reminisce about the good times you've spent together, and make plans for the future. There is nothing like a good chat with your friends to put you in a good mood.
And in true Parks and Recreation fashion, don't forget to treat yo'selves! Go shopping together, enjoy a spa session, or get together for mani-pedis. This day is all about you and your girlfriends.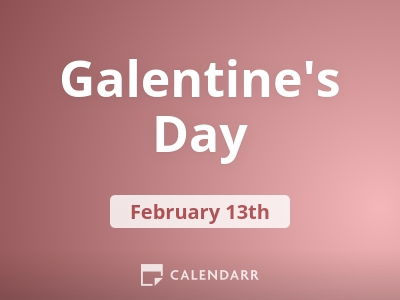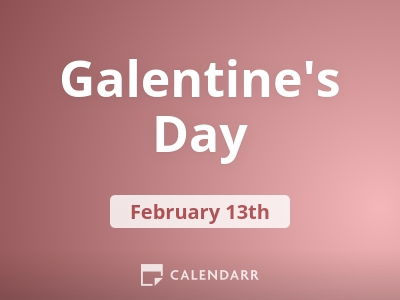 Galentine's Day - Next years
Monday, 13 February 2023
Tuesday, 13 February 2024
Thursday, 13 February 2025
2021 Calendars