Giving Tuesday
Next

Giving Tuesday
Tuesday, 30 November 2021
Giving Tuesday is observed in the United States on the Tuesday after Thanksgiving. The day happens at a time when people are starting their holiday shopping, and there are deals and sales in stores everywhere. Giving Tuesday reminds us to stop and think about those less fortunate, and raises awareness about the importance of doing charitable deeds and giving to those who need it the most. This is a day about community and unites people of all backgrounds from around the world in doing something good for others, such as volunteering, donating to charity, and lifting each other's spirits during a time of year that is more difficult for some.
Background
Much like Cyber Monday and Black Friday are days that allow stores to sell more of their products, Giving Tuesday was created to inspire and encourage people to do good deeds. Giving Tuesday was then created in 2012 by the Belfer Center for Innovation and Social Impact, and was first celebrated on November 27, 2012. The announcement for this day was made one month before its commemoration by the website Mashable, a founding partner of Giving Tuesday. That same year, Giving Tuesday was widely covered and announced by many international news sources such as The Huffington Post and ABC News, which help spread the word about this observance.
Throughout the years since its inception, Giving Tuesday has been covered by hundreds of media outlets, and gained the support of tech giants such as Google, Skype, Facebook, and Microsoft, as well as the support of several philanthropic and charitable foundations and organizations. This ensured that over the years millions of dollars have been consistently raised for those less fortunate over Giving Tuesday.
Every year, announcements about the day are shared on social media with the hashtag #GivingTuesday to help spread the word about the movement even faster and wider through the internet, encouraging people to donate.
What to do on Giving Tuesday
The most important thing you can do on Giving Tuesday is to donate to charities that you like or that have meaning to you. You can donate your time by volunteering, or your money by donating a sum on Giving Tuesday, or by setting up a recurring donation if you're able to. If you do not have the time to volunteer or can't donate money at the minute, you can always donate clothes that you and your family no longer wear, or donate toys that your children have outgrown. The important thing on Giving Tuesday is to do something good for others in any way we can, and even a little bit of help will cause a huge impact on the world.
Help spread the word and inspire others to follow your lead by sharing information about #GivingTuesday on your Instagram, Facebook, Twitter, and even on your family and friends' group chats.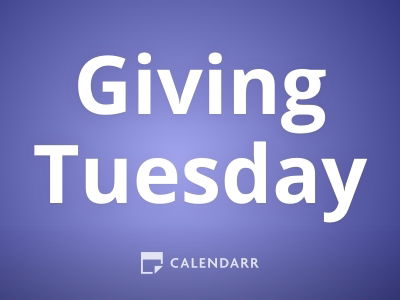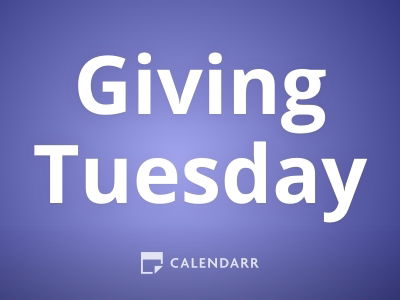 Giving Tuesday - Next years
Tuesday, 29 November 2022
Tuesday, 28 November 2023
Tuesday, 03 December 2024
2021 Calendars