National Mutt Day
Next

National Mutt Day
Thursday, 2 December 2021
National Mutt Day, also known as National Mixed Breed Dog Day, is observed every year on December 2nd. Mixed breed dogs are the most common breed to end up in shelters or to be abandoned, and are often overlooked because of people's desire for pure-bred and designer dogs. This day celebrates mixed breed dogs, their unique looks and personalities, and reminds people that they also need loving homes and affection. It also shines a light on the millions of mixed breed dogs that are in shelters waiting to be adopted.
Because around 80% of dogs in shelters in the United States are mixed breed, National Mutt Day is celebrated on two days of the year to raise maximum awareness - December 2nd and July 31st.
Background
The two dates for National Mutt Day were established in 2005 by Colleen Paige, an animal advocate, and pet expert. It raises awareness about over-breeding dogs and the high number of abandoned mixed breed dogs that come from it. 8 out of 10 dogs in shelters across America are mixed breeds, and they tend to wait for their forever families longer because people choose pure-breeds first, which often puts them in danger of being euthanized.
This day also highlights the many reasons why a mixed breed dog is a perfect dog for many families and the benefits of adopting a mutt:
Most pure-bred dogs come from puppy mills and irresponsible dog breeders, and many of them charge very high prices to buy a puppy. On the other hand, the fees to adopt a mixed breed dog from a shelter are much lower, and not only do you still get a loyal friend for life, but you are also saving a life.
Mixed breed dogs also tend to be more resistant, and have fewer health problems. Because their genes are a mix of different breeds, they do not suffer from recessive disorders that affect pure breeds. This also means that they live longer, so you'll get to have your friend's company for a few more years.
By adopting a mixed breed dog you will be getting a truly unique friend, both in looks and personality. Everyone knows what a labrador looks like, but mutts combine the best of different breeds which results in a dog that no one else but you will have. This happens with their personality as well, you can get the loyalty of a breed mixed with the intelligence of another. One thing is for sure, if you adopt a mixed breed, your dog will be one-of-a-kind.
How to Celebrate National Mutt Day
Shelters are always in need of some extra help when it comes to taking care of the dogs they house, so if you've been thinking about adopting or donating let this day be the perfect reminder to consider a mixed breed dog.
If you can and want to adopt, it can be tempting to go for a pure breed. However, pay a visit to your local shelter and spend some time with their mixed breed dogs. You'll see they are loving, smart, well-behaved, and most importantly, in need of a home. And because they are so different, you'll be sure to find the perfect match for you.
If you are unable to adopt a new dog, consider donating to a shelter. Every little helps, and it will make all the difference. If you can't donate money but you can donate time, offer to volunteer with a shelter and help them walk the dogs, groom them, and play with them. Not only is it good for the dogs, but it's also great for you!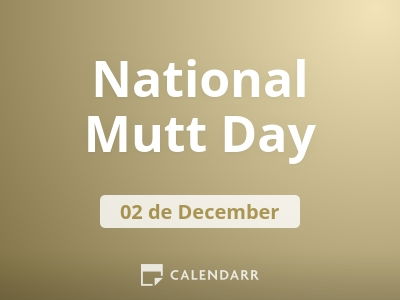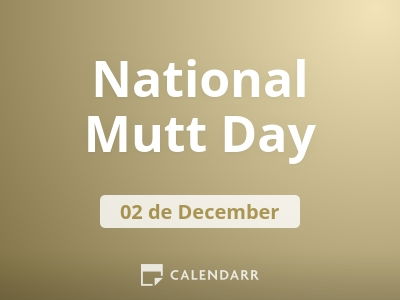 National Mutt Day - Next years
Friday, 02 December 2022
Saturday, 02 December 2023
Monday, 02 December 2024
2021 Calendars