Great American Smokeout
Next

Great American Smokeout
Thursday, 18 November 2021
The Great American Smokeout is observed every year on the third Thursday of November. This event, organized by the American Cancer Society, aims to encourage people in America to quit smoking, or at least make a plan to quit. On this day, smokers are challenged to not smoke for at least 24 hours, in what will hopefully inspire them to take the first step in quitting.
History
The Great American Smokeout is the result of a few local events that took place in parts of America in the 1970s. It was a High School guidance counselor who first had the idea that would originate the Great American Smokeout. Arthur Mullaney, of Randolph, Massachusetts, encouraged the people in his town to give up smoking for one day, and instead donate the money they would have spent on cigarettes to a high school scholarship fund. Later, in 1974, Lynn Smith, the editor of the Monticello Times in Minnesota led the "Don't Smoke Day" and also asked people to quit cigarettes for the day.
This inspired the California Division of the American Cancer Society to organize the first Smokeout on November 18, 1976, successfully inspiring one million people to quit smoking for the day. This was the first official Smokeout at a local scale. The first Great American Smokeout took place on November 16, 1977, in San Francisco, but was aimed at everyone in the United States.
Because of the efforts of the American Cancer Society during the Great American Smokeout, many people became aware of the dangers of smoking and the dangers of tobacco companies advertising cigarettes. It also prompted stores, restaurants, and workplaces to prohibit smoking inside, to help those trying to quit, and to protect non-smokers. During the 1980s and 1990s many local governments introduced tobacco control laws and raised taxes on cigarettes, effectively decreasing the number of smokers.
Smoking is the leading cause of preventable deaths and chronic disease in the United States, and it causes 1 of every 5 deaths in the US.
Great American Smokeout Ideas to Quit Smoking
Nicotine addiction is very strong and very difficult to quit. People who want to quit smoking need to be very committed and it often takes many attempts. If you're thinking of quitting it is strongly advised to speak to your doctor about a quitting plan first.
The American Cancer Society has a few tips for resources to help smokers quit tobacco such as:
The American Cancer Society Frehstart Program
Attend Nicotine Anonymous meetings
Hire a smoking counselor
Resort to Telephone Quitlines
There is also the Quit for Life program and book written by Jamie Mushin.
What to do during the Great American Smokeout
If you have been thinking about quitting, this is the perfect day to start. Begin by taking the first step of not smoking for the whole day, and then talk to your doctor about how to safely stop smoking, and make a plan.
Know anyone who smokes? Encourage them to finally take steps towards quitting today. It is much easier to do it if they have a good support network.
There are free Great American Smokeout posters available online, print some out and distribute them on the street or your workplace. Maybe you'll inspire someone to quit.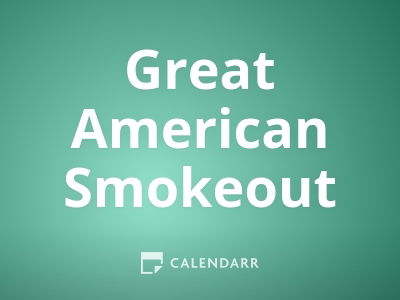 Other Celebrations
National Great Poetry Reading Day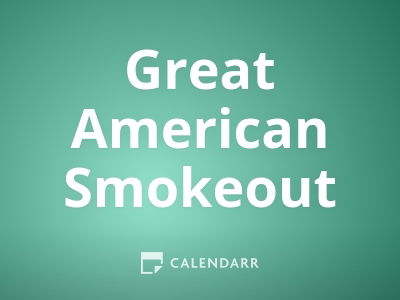 Great American Smokeout - Next years
Thursday, 17 November 2022
Thursday, 16 November 2023
Thursday, 21 November 2024
2021 Calendars