Universal Children's Day
Next

Universal Children's Day
Saturday, 20 November 2021
Universal Children's Day, also sometimes known as World Children's Day, is a United Nations holiday commemorated on November 20. It celebrates the Declaration of the Rights of the Child, which was adopted on this day in 1959, and raises awareness about issues that affect children, and promotes the importance of children's welfare around the world. Children have different needs and rights to adults, and it is crucial to have a day that highlights that. This day also reminds us that we should invest in children and their education, as they are all of our's future.
Background
In 1954, it was recommended by the United Nations General Assembly that all countries around the world should commemorate an annual Universal Children's Day, starting from 1956. This day was meant to encourage children of all countries to come together, and teach them about tolerance and understanding, as well as promote children's well-being. Countries were given the choice of what date to hold this observance on.
On November 20, 1959, the Declaration of the Rights of the Child was passed in the UN General Assembly, and thus that date was chosen as the official global observance of Universal Children's Day. The declaration highlights children's right to education, health, their right to life and to play, the right to family life and protection from violence, and the right to be heard.
Thirty years later, also on November 20, the United Nations held the Convention on the Rights of the Child, where children's rights were officially established. There are 54 articles in the Convention, delineating children's rights and how governments can enforce them and make them available to the children in their country. It focuses on the specific needs of children regarding issues such as economic, social, civil, political, and health rights.
How to Celebrate Universal Children's Day
The United Nations and UNICEF websites have many resources on how to help contribute to better the lives of children around the world. For example, you can sponsor a child in another country, or donate to organizations whose goal is to help children. Even the smallest donation can change a child's life, so on this day, do some research and think about helping improve a child's future.
The UN also organizes events for Universal Children's Day. Check locally to see if there are any happening close to you and attend it. It is a great opportunity to learn more about issues that affect children and how you can help.
If you've always thought about volunteering, why not consider starting it now, and offering your help at the local children's shelter or schools.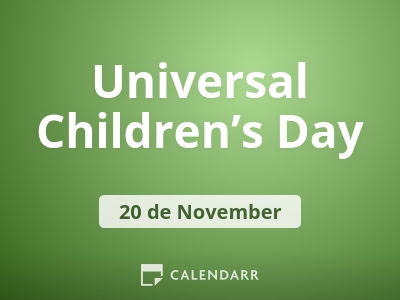 Other Celebrations
International Children's Book Day

National Missing Children's Day

National Love Our Children Day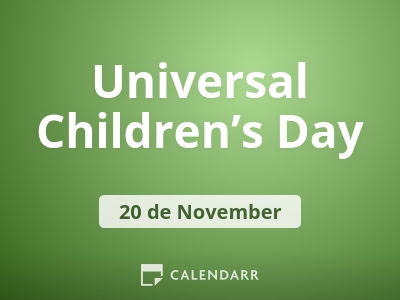 Universal Children's Day - Next years
Sunday, 20 November 2022
Monday, 20 November 2023
Wednesday, 20 November 2024
2021 Calendars