National Day of the Horse
Next

National Day of the Horse
Monday, 13 December 2021
National Day of the Horse, also sometimes known as National Horse Day, is celebrated on December 13. This day is not just for Equestrians and horse enthusiasts, it aims to highlight all the ways in which horses have historically contributed to society, economically and culturally, in the United States. Horses have been closely linked to American history since the country was founded, and have played a crucial role in the advancement of society, from providing transport, support in battle and hunting, clearing fields and forests to grow crops, and helping with shepherding livestock in ranches.
Background
National Day of the Horse was established in 2004 when the Senate passed Resolution 452 and made December 13 an official federal observance.
Horses were brought into North America by Spanish explorers and eventually spread across the Great Plains. Some people defend that the Equus caballus, a domesticated species of horse, is a native species to America.
Since arriving in the country, horses have played a huge part in the economic advancement of the United States. It is estimated that horses contribute around $9.2 billion to the nation's economy. The horse is also embedded in American culture and roots, it is linked to the myth of the American cowboy, and rodeos are still a majorly popular event in some parts of America.
While some people only think of horses in a recreational way, they are not only essential for farm work and transportation in rural areas, they are also great therapy animals that help people with issues such as anxiety and PTSD. They have been a companion to humans for centuries, and have helped everyone from farmers, to riders, to soldiers throughout history.
How to Celebrate National Day of the Horse
Everyone can celebrate National Day of the Horse, whether you are an equestrian who loves to ride, an equine expert and enthusiast, or just someone who likes horses.
If you own a horse, take some time out off this day to spend with it, strengthening your bond. Go for a ride on a long trail, or even for a hack. If your horse likes it, give it a long grooming session. Or you can also spoil it with a new halter or a bridle browband.
If you own horse stables, invite people who don't usually get to interact with horses for a visit. Even though they are such a big part of American culture, they are becoming more inaccessible. Give someone the opportunity of a lifetime!
Love horses but don't own one? Buy yourself some horse riding lessons, you'll get to spend time with horses and learn a new skill! Consider volunteering at horse-related organizations such as rescues and therapeutic riding schools. Alternatively, you can donate some money to horse nonprofits. Treat yourself to a very horse-themed day by settling down with a horse movie such as "Seabiscuit" or "Secretariat".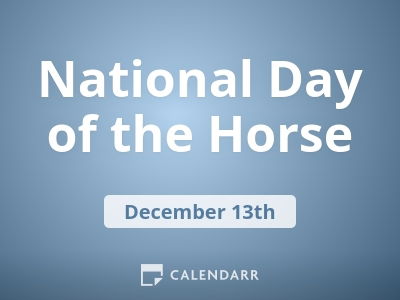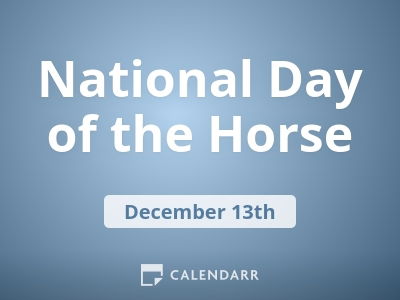 National Day of the Horse - Next years
Tuesday, 13 December 2022
Wednesday, 13 December 2023
Friday, 13 December 2024
2021 Calendars