Human Rights Day
Next

Human Rights Day
Friday, 10 December 2021
Human Rights Day is an international United Nations holiday commemorated on December 10. This day aims at spreading awareness about Human Rights across the world, and encouraging people to stand up and fight for their rights, regardless of where they are from. It also celebrates the anniversary of the adoption of the Universal Declaration of Human Rights on December 10, 1948.
Background
Officials at the United Nations began drafting the Universal Declaration of Human Rights (UDHR) in January 1947, and it was officially adopted by the UN General Assembly on December 10, 1948, in Paris. The purpose of the declaration was to have a document outlining a basis for Human Rights for countries all over the world, and it was introduced right after World War II after times of conflict and during a period where colonialism was prevalent around the globe. The UDHR effectively shifted this, changing governments' perspectives, and putting the focus on the People, and not on violence.
Since its inception, the UDHR has been translated into 360 languages and counting.
On December 4, 1950, the United Nations invited all of its member states to join them in observing Human Rights Day on December 10 every year. This was received with enthusiasm, and the popularity of this holiday has only grown over the years.
While the UDHR is not a legislative or binding document, instead offering suggestions on the issues of Human Rights in the political, economic, social, civil, and cultural fields, it is the only document that delineates concrete standards of human rights that all countries can adopt. As such, UN member states all consent to abiding by this document.
The document focuses on all citizens' rights and freedoms, such as the right to healthcare and education, the right to live, the right to freedom of speech and thought, and the importance of equal rights.
As is usual with United Nations holidays, there is a different Human Rights Day theme every year. For example, in 2019, the theme was "Youth Standing Up for Human RIghts".
How to Celebrate Human Rights Day
Many organizations host events and protests on Human Rights Day, to bring awareness about the progress that has been made since the Universal Declaration of Human Rights was adopted, but also to highlight the fact that in some countries people's human rights are still not recognized. These events can be exhibitions, talks, or marches. See if there are any near you, and participate to show your support, and educate yourself on human rights issues.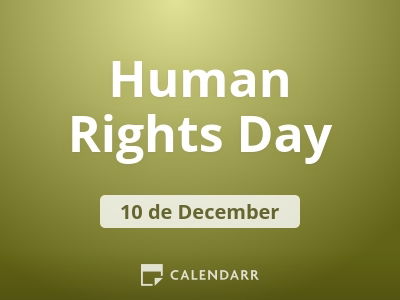 Other Celebrations
National Human Trafficking Awareness Day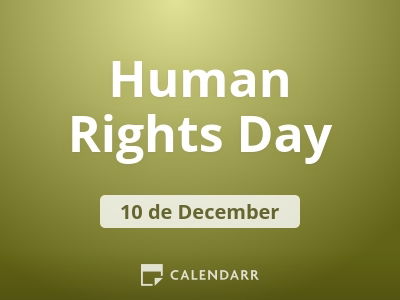 Human Rights Day - Next years
Saturday, 10 December 2022
Sunday, 10 December 2023
Tuesday, 10 December 2024
2021 Calendars