Bill of Rights Day
Next

Bill of Rights Day
Wednesday, 15 December 2021
Bill of Rights Day is commemorated every year on December 15. The Bill of Rights consists of the first 10 amendments made to the United States Constitution, and its purpose is to spell out the personal freedoms and rights of the American people. The Bill of Rights was first written on September 25, 1789, and was later ratified on December 15, 1791, which is why Bill of Rights Day is celebrated on this date.
Bill of Rights Day is not a federal holiday, so businesses and schools are open and running as usual.
Background
Bill of Rights Day was established by President Franklin D. Roosevelt who issued a Presidential Proclamation on November 1941, declaring that this holiday should be observed on December 15, and encouraging people to be patriotic on this day. The first Bill of Rights Day was commemorated on the 150th anniversary of the ratification of the document.
President Roosevelt believed that Bill of Rights Day was the most important day for freedom and all liberty-loving people. As the first Bill of Rights Day was observed during World War II, President Roosevelt also denounced Hitler and his party for taking away the individual freedoms of the people in his country.
In 1946 a request was made in Congress for Bill of Rights Day to be observed again, so President Harry Truman issued a proclamation for that purpose. It was only in 1962 that Bill of Rights Day became an annual observance, determined every year by a proclamation from the current serving President. The day is often paralleled with Human Rights Week.
What is the Bill of Rights?
The Bill of Rights is a document that delineates the first 10 amendments made to the U.S. Constitution and ensures the individual rights of the American people while limiting the power of the federal and state governments. They are bound by legal powers, and any act of Congress that is in violation of them could be annulled by the Supreme Court.
The original 10 amendments in the Bill of Rights act as the foundation for the most traditional American values. Some of the amendments include the freedom of speech, religion and press, the right to bear arms, the rights of due process of law and to a speedy trial, and the right to a trial by jury. Through the years, more amendments were added to the Bill of Rights as needed.
The original document is displayed in the National Archives Building in Washington D.C.
How to Observe Bill of Rights Day
In his proclamation, President Roosevelt called upon the people of the United States to commemorate Bill of Rights day by displaying the United States flag on their homes and public buildings and to get together in patriotic events and prayers celebrating their freedoms and rights.
You can take this day to learn more about the Bill of Rights and get to know all of your rights as a citizen of the United States.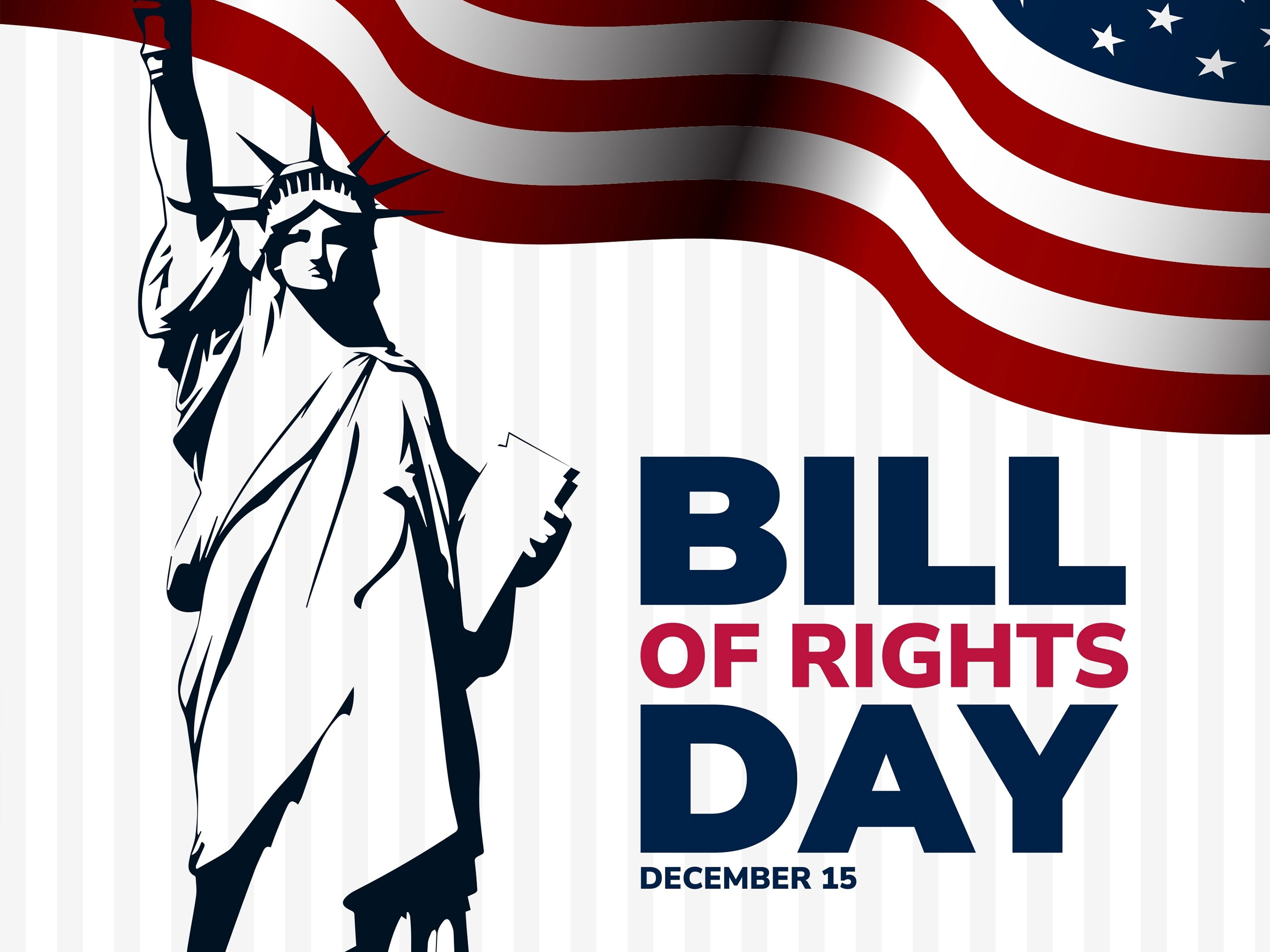 Other Celebrations
International Animal Rights Day

World Consumer Rights Day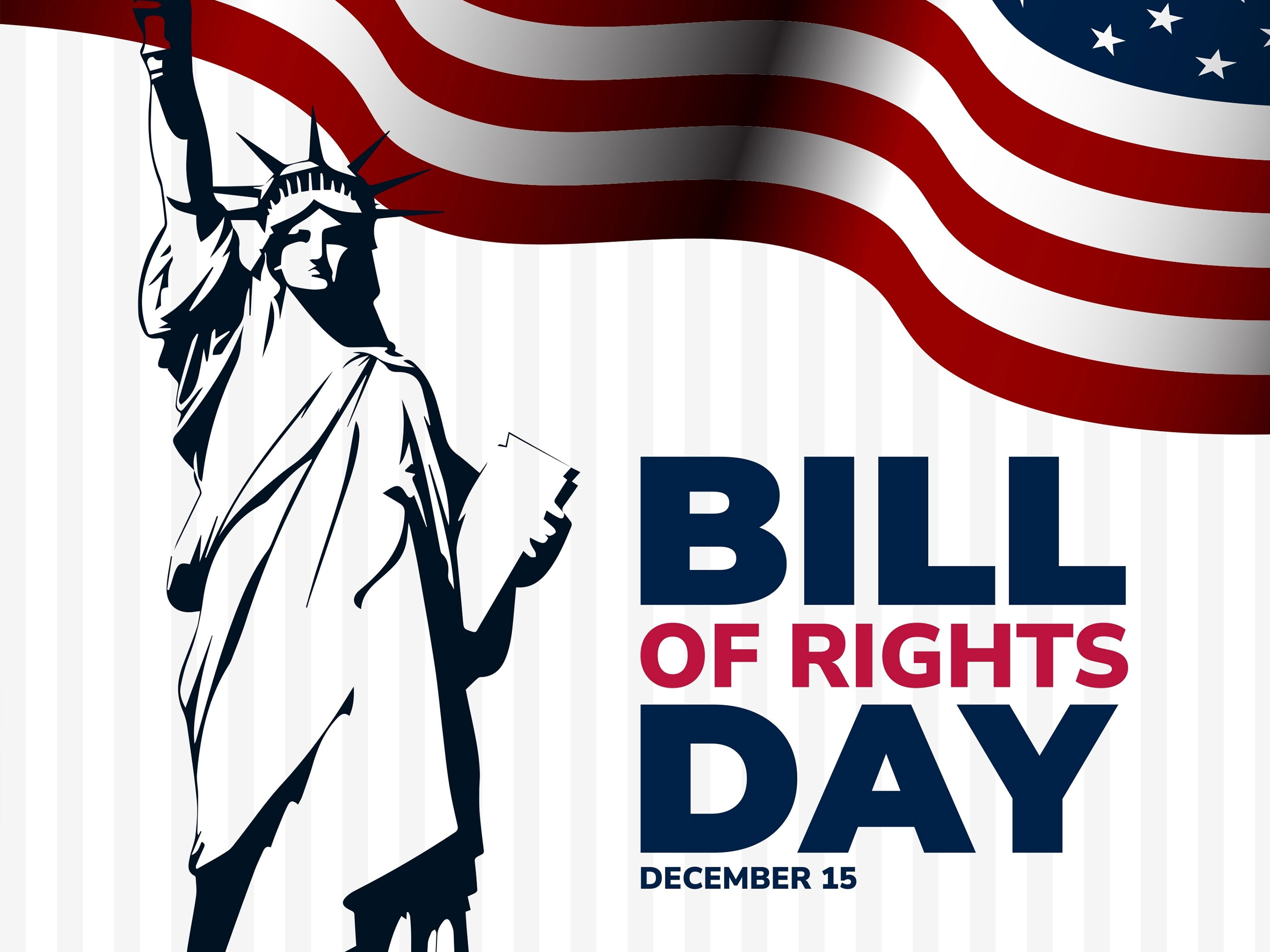 Bill of Rights Day - Next years
Thursday, 15 December 2022
Friday, 15 December 2023
Sunday, 15 December 2024
2021 Calendars