International Literacy Day
Next

International Literacy Day
Wednesday, 8 September 2021
International Literacy Day is a United Nations holiday observed every year on September 8. The day was created to highlight the importance of literacy, as well as to raise awareness about the literacy problems that impact around 750 million adults and children around the world. International Literacy Day also encourages governments to take action to improve their country's literacy rates.
Background
International Literacy Day was created by UNESCO, or the United Nations Educational, Scientific and Cultural Organization, in 1966. UNESCO's goal is to remind people about how literacy is a matter of human rights and dignity.
We celebrate International Literacy Day because there needs to be more action to educate people and attempt to diminish illiteracy rates around the world. Currently, one in five adults is not literate, with two-thirds of them being women, as in some countries girls are not allowed to attend school. At the same time, around 61 million children don't attend school, and 250 million children lack basic literacy skills. Literacy and reading are essential skills that help people not only with their success, but they are also crucial skills to have on everyone's day-to-day lives and so they can easily communicate with and be part of their community.
The first International Literacy Day was commemorated in 1967. Since then, every year, there is an event and award ceremony in Paris to mark this day and recognize the organizations that are doing great work towards improving literacy rates around the world.
Like many United Nations Days, International Literacy Day has a different theme every year. which have ranges from "Literacy and Health", to "Literacy and Empowerment" to the most recent theme in 2019 of "Literacy and Multilingualism".
What to do on International Literacy Day
If you want to help fight illiteracy in your community you can take this day to start volunteering at a school, library, or youth organization. This way, you can teach children and young people how to read and help them improve this skill, and you can also read to younger children in order to awaken the love of books in them so that they get more interested in literature and reading.
You can also donate your old books to schools, libraries, and organizations, or you can donate some money to the organizations that are working on eradicating illiteracy around the world.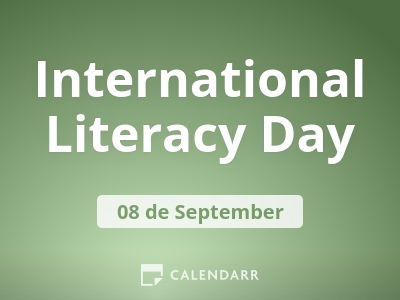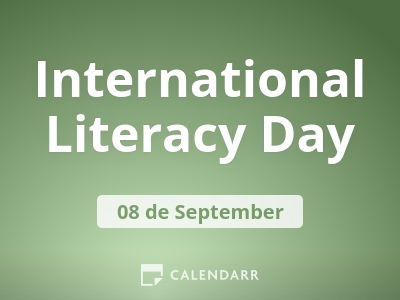 International Literacy Day - Next years
Thursday, 08 September 2022
Friday, 08 September 2023
Sunday, 08 September 2024
2021 Calendars