Peace Officers Memorial Day
Next

Peace Officers Memorial Day
Saturday, 15 May 2021
Every year on May 15 Police Officers Memorial Day honors and pays tribute to police and law enforcement officers who have lost their lives or been disabled in the line of duty, while protecting their communities. This observance is sponsored by the Fraternal Order of Police and happens during National Police Week.
Police Officers Memorial Day is an official observance, but it is not a federal public holiday in the United States, which means that schools and businesses remain open.
History of Police Officers Memorial Day
On October 1, 1961, the 87th United States Congress authorized President John F. Kennedy to designate May 15 as a day to pay tribute to peace officers, as had been requested of him. One year later, on October 1st, 1962, President Kennedy signed the bill into law and issued a proclamation declaring May 15 as the annual observance for Peace Officers Memorial Day, and the week of that date to be recognized as National Police Week.
A few years after that, in 1994, President Bill Clinton passed a Public Law establishing that the American flag must be flown at half-staff for Peace Officers Memorial Day, in memory of the law enforcement officers that are honored on this day.
Every year, the President is required by law to issue a proclamation to designate May 15 as Peace Officers Memorial Day, and order government staff to display the flag at half-mast and organize official ceremonies in tribute to the fallen law enforcement officers.
It is estimated that there are currently over 800,000 law enforcement officers serving in the 19,000 different United States' law enforcement agencies. On average, 163 of these officers lose their lives while in the line of duty every year, and many others get injured or permanently disabled. Peace Officers Memorial Day honors all local, federal, state, tribal, and military officers who have fallen while serving the community and the country.
How to Celebrate Peace Officers Memorial Day
There are events and ceremonies all over the country, organized by law enforcement organizations, businesses, communities, and families and friends of law enforcement officers, to pay tribute to all of those who have lost their lives while protecting others, and to honor their families and support them in coping with their loss.
The biggest event on this day is hosted by the Fraternal Order of Police, who holds a national memorial service on May 15 at the National Law Enforcement Officers Memorial in Washington D.C. This is attended by thousands of people from all across the United States, who come to pay their respect and lay their wreaths in the memorial.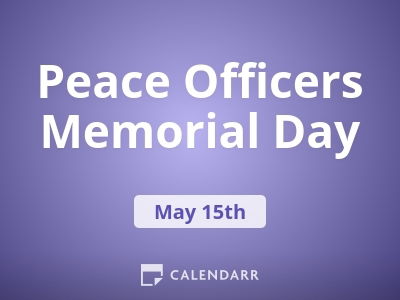 Other Celebrations
National Pet Memorial Day

International Day of Sport for Development and Peace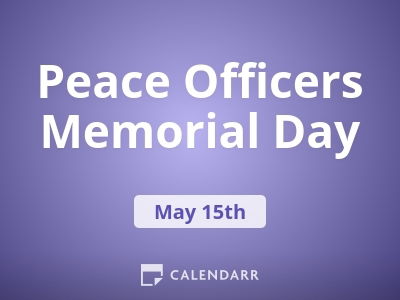 Peace Officers Memorial Day - Next years
Sunday, 15 May 2022
Monday, 15 May 2023
Wednesday, 15 May 2024
2021 Calendars