Lei Day
Next

Lei Day
Saturday, 1 May 2021
Lei Day, also popularly known as "Hawaiian May Day" is a celebration of Hawaiian culture that happens every year on May 1. Festivities begin on the morning of the first day of May and continue into the next day.
Lei Day is a major celebration in Hawaii, but it is not a public holiday. Schools and businesses remain open.

History
Lei Day was first celebrated in 1927 in the bank of Hawaii. Commemorations eventually moved to the town hall, until they were settled in Kapi'olani Park. Don Blanding, a Hawaiian writer, and poet wrote in a local newspaper that a holiday to celebrate leis should be created, in 1928. Eventually, in 1929, Lei Day was made an official holiday to be commemorated in the state of Hawaii.
The date of May 1 was suggested for the holiday, originating the now famous saying "May Day is Lei Day in Hawaii."
The Meaning of the Lei
The lei is meant to be a non-verbal representation of aloha, the Hawaiian word for love, peace, passion, mercy, and compassion. Aloha is widely used in Hawaiian culture and can take many meanings, of greeting, farewell or hope.
Each island in Hawaii has its own flowers and vegetations, which means that each island also has its specific lei, made of different flowers and colors, and different ways of assembling it. Some islands are known for their fruit as opposed to their flowers, so their leis are made of fruit.
To celebrate Lei Day and the aloha spirit, people gift each other leis.
Lei Day Traditions
Lei Day is a big celebration in Hawaii, marked by parades, festivals, and ceremonies across all islands. Festivities include hula dancing shows, lei exhibitions and other displays of Hawaiian culture.
Schools play a big part on the holiday, with students performing Hawaiian dance shows for the school and the community.
As a display of the aloha spirit, people wear clothes that are bright and colorful, usually with big flowery prints to match their leis.
Lei Day is also the place of big, famous events, such as the "Lei Day Queen" pageant, where it is an honor to be crowned the queen. In Kapi'olani Park, dozens of leis are exhibited, and the Lei Day Queen is in charge of choosing the most beautiful lei. On Hawaii Island, there is the yearly Hilo Lei Day Festival, featuring music and special guests.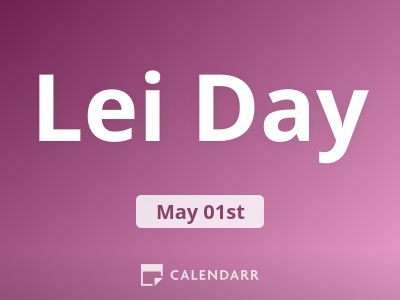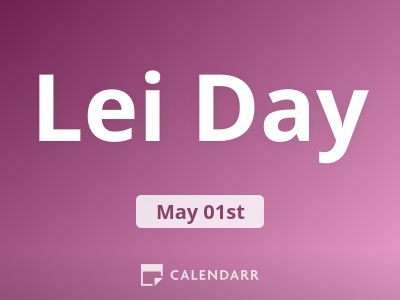 Lei Day - Next years
Sunday, 01 May 2022
Monday, 01 May 2023
Wednesday, 01 May 2024
2021 Calendars