Mother's Day
Next

Mother's Day
Sunday, 9 May 2021
Mother's Day is observed in America every year on the second Sunday of May. It is a day for celebrating mothers and showering them with gifts and treats. It is not a public holiday, so businesses follow normal Sunday hours.
The origins of Mother's Day
Celebrations of motherhood go back to the ancient Greeks and Romans. The Greeks had festivals honoring Rhea and Cybele, known as the mother goddesses, and the Romans celebrated mothers during the festival of Hilaria.
More recently, the modern Mother's Day roots can be traced to the Christian observance of Mothering Sunday. This day is observed on the fourth Sunday of Lent, and it used to symbolize Christians' return to their mother church. While some countries still celebrate the holiday on this date, in America, it became a secular tradition, and Mothering Sunday celebrations gradually disappeared until they were fully merged with the current Mother's Day in the 1930s.
History of Mother's Day in America
Throughout history, there have been in the USA many attempts by a few people to create a holiday that honors all Mothers.
Ann Reeves Jarvis
In the 19th century, Ann Reeves Jarvis set to create the Mother's Day Work Clubs, which was observed by mothers getting together and sharing childcare tips and advice, to honor motherhood and have women supporting each other. In 1868 Jarvis founded the Mother's Friendship Day, and had women talking to and supporting the soldiers on both sides of the Civil War to promote peace between them.
Julia Ward Howe
In 1870, Howe, being part of the Suffragette movement, thought that women, and especially mothers, should unite to advocate for world peace during a period of war. For this, she wrote the Mother's Day Proclamation, where she stated that women had the responsibility to shape society at a political level.
In 1872 she unsuccessfully tried to create a celebration of Mother's Day for Peace, to happen annually on June 2nd.
Anna Jarvis
Success arrived in the 1900s through the efforts of Anna Jarvis, the daughter of Ann Reeves Jarvis. After her mother's death, and wishing to honor her efforts of creating a special way to celebrate mothers, Jarvis set forth and fought for an official day where the sacrifices and achievements of mothers could be commemorated.
She won the support of a businessman named John Wanamaker, and in 1908 the first celebration of Mother's Day took place in a church in Virginia.
Not content, and with the belief that society was biased towards male achievements, Anna Jarvis believed that Mother's Day should be added to the holidays' calendar. With this in mind, she campaigned with politicians and sent letters to newspapers advocating for the day to be made official.
By 1912 many states had already adopted Mother's Day as a holiday, but Anna's fight was fruitful in 1914 when President Woodrow Wilson officialized Mother's Day as a holiday to be celebrated on the second Sunday of May.
However, by 1920, Mother's Day had become a hugely commercialized holiday, which went against Jarvis' wishes of it being a holiday where people merely spent time visiting their mothers, going to church, and reflecting on the importance of motherhood. Unhappy with what the holiday had become, Anna Jarvis fought against stores selling Mother's Day flowers and gifts and spent all her money on lawsuits against companies who used "Mother's Day" on their advertisements. When this didn't work, she lobbied for Mother's Day to be removed from the calendar, also without success.
Mother's Day Today
The tradition of gifting mothers on this holiday has prevailed, and people treat their mothers to flowers, chocolates, jewellery and even spa visits.
Most people will also take their mothers out for dinner, making this the busiest day for restaurants in America.
Cards have also become a huge part of Mother's Day, with card companies selling cards with lovely Mother's Day quotes. Because of this, the holiday has become the third-largest day for card sending in the country.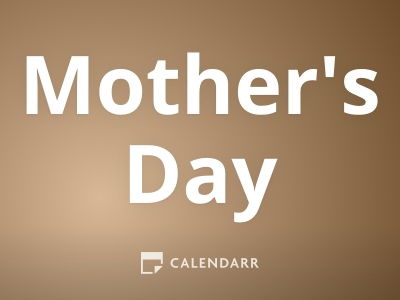 Other Celebrations
National Mother-in-Law Day

International Mother Earth Day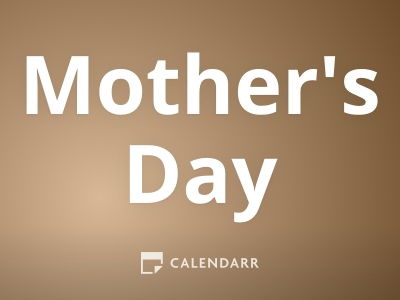 Mother's Day - Next years
Sunday, 08 May 2022
Sunday, 14 May 2023
Sunday, 12 May 2024
2021 Calendars