Calendar
Military Spouse Appreciation Day
Military Spouse Appreciation Day
Next

Military Spouse Appreciation Day
Friday, 7 May 2021
Military Spouse Appreciation Day, also known as Military Spouse Day, is an annual celebration on the Friday before Mother's Day. It honors and recognizes all the support and sacrifices of the spouses of the soldiers in the United States Armed Forces. Military Spouses are often what keep soldiers going while they are away protecting the country, giving them strength and motivation. It takes a lot of courage to go into the battleground, but it also takes a lot of courage and determination to stay home and hold the fort, and care for their families. On Military Spouse Appreciation Day we acknowledge all the contributions that Military Spouses make.
History of Military Spouse Appreciation Day
President Ronald Reagan issued Proclamation 5184 on April 17, 1984, declaring May 23, 1984, as Military Spouse Appreciation Day, in recognition of how important spouses are to the readiness and well-being of military members. What was meant to be a one-time observance was standardized by Caspar Weinberger, the US Secretary of Defense, who established the Friday before Mother's Day as Military Spouse Day.
Since then, every year, the serving President of the United States issues a proclamation for Military Spouse Appreciation Day, to commemorate the support and commitment of all military spouses.
Military spouses are examples of patriotism and strength, as they act as the pillars of the soldiers in the American Armed Forces. The life of a military spouse is filled with uncertainties - when their spouse could be deployed, where they will be stationed, when they will have to move, what their partner is going to be like when they return from their deployment, among others - but through it all, they show resilience and unconditional support. While the soldiers in the armed forces are out there protecting us, we cannot forget to also show appreciation for those who are their backbone, their spouses and families.
How to Celebrate Military Spouse Appreciation Day
This day is all about saying "thank you" to military spouses, and showing your support for the military spouses you know.
If you know someone whose partner is currently away in training or deployed in combat, pay them a visit and let them know that you are there for them. Bring them some food, listen to them, offer to take them out. The life of a military spouse can be a lonely and stressful one, and take a toll on a person's mental health. The best you can do is show them they have a support network around them, especially if they have just recently moved near you.
Are you in the armed forces and lucky enough to be with your spouse on this day? Thank them for all they do for you and your family, for holding down the fort when you're away, and for being so accepting of any changes. Treat them to a gift that they have been eyeing up for a while, take them out to do their favorite thing (such as going to the movies, for a hike, to the beach, whatever they enjoy) and above all, just shower them with appreciation for all they do.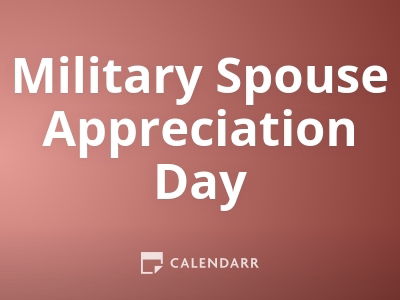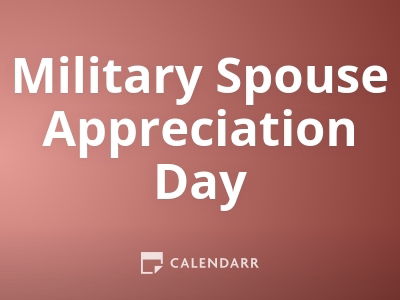 Military Spouse Appreciation Day - Next years
Friday, 06 May 2022
Friday, 12 May 2023
Friday, 10 May 2024
2021 Calendars